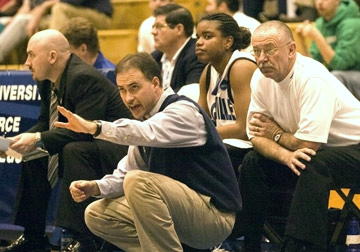 Center front - Coach Steve Harold
File photo by Drew Moody
WDTV in Clarksburg speculated yesterday that award-winning Glenville State College basketball coach Steve Harold is resigning.
The college has yet to issue a statement regarding the matter.
Attempts to confirm the resignation were not successful.
WDTV said an announcement would be made today.
Harold, Glenville State College's athletic director and head coach of the Lady Pioneers, was honored in the NCAA Division II, Region 2 category and was recently selected as WVIAC Coach of the Year for the third time.
He has also received other regional and national honors.
In 2002, he was named West Virginia Coach of the Year.
The Lady Pioneers captured the NCAA East Region, Division II Women's Basketball Championship in March, going on to play in the Elite Eight Tournament in Nebraska.