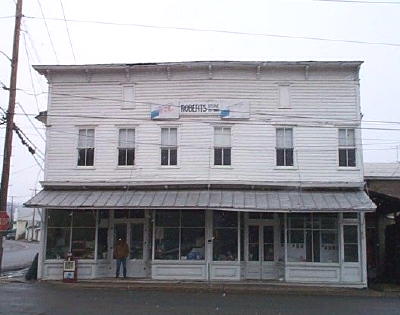 The historic Robert's Store burned to
the ground, leaving a void in Wirt County
A year after arsonists destroyed Elizabeth's historic Roberts Store, a new hardware store is rising from the ashes in Wirt County.
"After Roberts store burned, there was no hardware store in Elizabeth. It was very hard even building this one. Everyday we were having to go to Parkersburg to pick up something," says Jim Matheny, owner of the new Wirt Hardware.
Wirt Hardware stands only feet away from its predecessor and holds the memory of the original store both in its walls and within the employees hearts.
"It was nice. You know I got to know a lot of the people working. The whole community came in there at one time or another," says Jessie Bragg, who worked at Roberts Hardware, and now works at Wirt Hardware.
The two men who worked for Roberts at the old hardware store now work at the new store, and say they're glad to be a part of his legacy.
"I wouldn't trade it for nothing," says Bragg.
"I thought I would get some time off, but it didn't work out. I just went across the street to this side and started building here," says Kevin Dooley.
Dooley told WTAP-TV he's pleased to see Roberts regulars coming to try out the new store.
"We still have a lot of people come in and ask me if we've got something that they always got at Roberts and I'll try to get it," he said.
Matheny says he's saying his prayers that this store can meet the needs of the residents like Roberts did.
"If there's anything they're telling us they need, we'll pick it up. So we're increasing a little bit everyday. Every week we pick up some new items," says Matheny.
As the new mixes with the old, Wirt Hardware plans to keep the memories alive.
Wirt Hardware is the only hardware store in town and folks that stopped by the grand opening say they're happy the store is back.