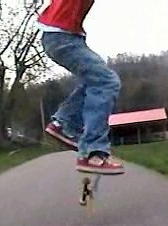 Skateboarding, often portrayed in the media as an extreme sport, can be a hobby or form of art, that has attracted 12.5 million skateboarders in the USA.

At the very least, riding or performing tricks on a skateboard, requires a lot of athletic agility and skill.

Because of cultural mis-perceptions, skateboarders have sometimes been banned from public streets and parks because of safety or other reasons that allegedly interfere with public movement.

The Calhoun Wood Festival committee, currently in charge of operating Wayne Underwood Field, is a facility that is currently allowing skateboarding.

After considerable discussion, the committee has given permission to skateboarders to use the paved walking track at the field, provided skateboarders respect walkers or other users of the facility, giving them right-of-way.

The rule says "Joggers, runners, bicycles, skateboarders, roller blades or roller skaters will yield to all walkers, respect others at all times and the field property."

Judy Powell, president of the Wood Festival, indicated violation of the rules would likely mean skateboarders or others could lose privileges.

Skateboarder Dustin Simmons expressed his appreciation to the Wood Festival Committee and the Calhoun Commission "For Allowing my friends and I to continue to skateboard at the track."

"There are not a lot of places to skate in the county and we really appreciate the opportunity. We will abide by all the rules," Simmons said.