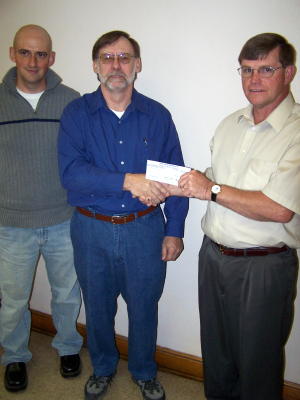 E-911 Director Gary Buchanan (center) presents a $3,200 check to Calhoun Commission president Rick Sampson (L) and commissioner Kevin Helmick (R) the first installment to help fund local mapping and addressing
E-911 Director Gary Buchanan told the county commission Monday that addressing the Big Springs area will commence within a week.
"We appreciate the cooperation of the public to get the project done," Buchanan said.
He also said the state is expected to update flood plain maps.
Buchanan, who has been attending a number of statewide meetings, said the current E-911 cell phone tax is expected to continue to be a money stream to improve services.
Those funds have been used to install the new 180 foot tower and install new electronics.
Completion work is still being done to the interior of the center at Mount Zion.
The commission approved a current list of appointments to the E-911 Advisory Board: Jerry Riggs, chairman, Fred Waybright, Diane Ludwig, Bob Weaver, Richard Postalwait, Ron Blankenship, Tom Fox, Paul King, Craig Gherke, Carl Ballengee, J. D. Nicholson, Barbara Lay and Janet Gherke.