Submitted by Bev Mullins

An Easter egg hunt was held for the kids on Easter Sunday at Walker Methodist Church. Kaelyn Peck found the lucky egg and Cierra Rogers and Rebekah Peck found the most eggs, finding 36 each. Gifts were awarded to the winners.

Those hunting eggs in the cold snowy weather were Matthew and Gracie Siers, Kaelyn and Rebekah Peck, Cierra and CJ Rogers, Colton and Jocey Cutshall. Michael and Matthew McCumbers attended another church with their friends.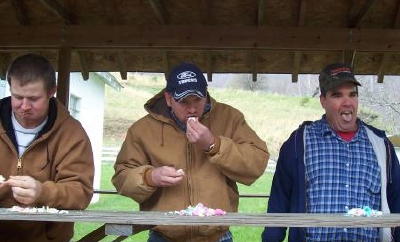 After the egg hunt everyone gathered around for the big egg eating contest, with only 3 guys participating, Todd Siers, John Peck and Mike McCumbers. Mike stole the crown from last year's winner Todd Siers.
The contestants had only a few minutes to crack, peel and eat the eggs. Mike and John tied with 6 eggs each but as time was running out, Mike got the last bite down before John, making him the winner.
Todd forgot to bring his salt and pepper shaker which slowed him down. Word had it that there were 2 eggs that read, Happy Easter 2005. Wonder which guy or guys got them?