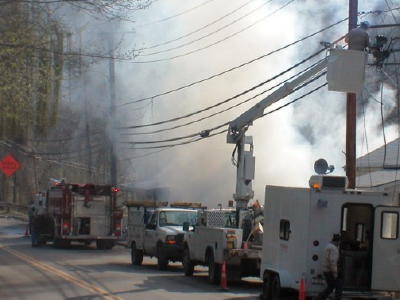 Clay fire sends woman to Pittsburgh Burn
Center, disrupts regional phone system
Photos courtesy of clayberry.org
A Clay woman, Rosalee Keen received serious burns in an early morning fire yesterday at her Main Street residence.
The Clay Communicator said Keen had just returned to her home after surgery.
After the fire broke out about 2:30 a.m. the woman was rescued from the dwelling and flown to the Pittsburgh Burn Center, reportedly with first and second degree burns.
About 5 a.m. there was a large explosion in the burning house, likely an oxygen tank. The house next door was also damaged.
The fire disrupted telephone and Internet service to 5,000 customers in Clay, Roane and Nicholas counties.
The fire damaged several fiber and copper cables going into the Frontier phone office nearby.
Phone service was expected to be restored by midnight Tuesday.