By Alvin Engelke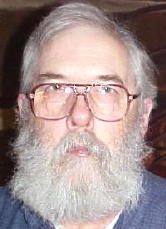 By Alvin Engelke
Former Lemuel's Run resident Wilbert Kirby passed away. He had many friends locally and will be missed. He was a brother of Victor Kirby.
Rev. Juanita Lockhart filled her regular appointment at the Burning Springs M. E. church while Kenneth Belt brought the message at the sunrise service. The church women fixed up a fine breakfast of eggs, ham, sausage, gravy, biscuits, rolls and such and Sam Jones made a fine apple dessert for those who had room.
Good Friday was marked in the Creston area by about 2 inches of snow and temperatures in the teens. Dorothy Lynch covered up her flowers. It remains to be seen how much damage was done to ornamentals and fruit trees. The tent caterpillars had been feasting on fruit trees and likely the snow and cold will not hurt them. The water that's full of wigglers froze and it remains to be seen if they were hurt. The dogwoods and red bud were just about in their glory.
Dr. William Gray, emeritus professor of atmospheric science at Colorado State Univ. and the nation's leader in hurricane prediction made the following statement about Albert Gore, Jr. and his claims of "man made global warming". "He's one of those group that preaches the end of the world type of thing .. . . . he's doing a great disservice and he doesn't know what he's talking about." Gore was flying about in his private jet and didn't comment on Dr. Gray's statement.
The school systems continue to teach such stuff to the youth. Likely next the charlatans will be teaching about phlogiston and how to change base metals into gold.
It was noted that Mrs. Pelosi and W. Va.'s congresscritter Nicky Joe Rahall could now be charged under the Logan Act for attempting to negotiate foreign policy with America's enemies. When John F. Kerry was still in the Navy he met with the Viet Cong which is why his real service records have never been released.
Wilbur Harrison Schenerlein IV was born April 5 at Marietta Memorial Hospital. The new arrival, the first boy born in Jane's family since 1948, weighed 6 lb 15 oz and was 20 ½ inches long. Both mother and son are doing well and have been busy "entertaining" a legion of visitors and well-wishers.
Even though the price of scrap metal has fallen thieves have been busy on Little Creek taking away antique traps and scrap metal that did not belong to them.
Outlaws damaged various items at Don Hursell's place on Beaver Dam and the authorities have been investigating and have some leads.
Arley Parker, the contract carrier who brings mail to Creston, Brookville, Grantsville, etc. had a wreck down at/near Chester Boggs' service station and is now using a rental truck to carry the mail.
W. Va. Secretary of State Betty Ireland was in Wirt County to encourage voter registration at the high school in Elizabeth. She noted that the big plan to sell off most of the state road equipment to well connected contractors has caused a big stir down at the Mouth of the Elk. Niece Sandy and Suellen ran out of voter registration cards at the event.
Christopher Stephen Boggs, age 36, who was among those who formerly lived in Don Rhodes rental trailer, was arraigned on 21 charges related to a crime spree that was the catalyst for the Creston area to have a neighborhood watch. Now other Wirt communities are doing the same.
The Ritchie County Historical Society is having the old Carter farm line maps reprinted. Copies for almost all local counties can be ordered by e-mail ritchiehistory@aol.com. or by calling 643-2738.
Grace Keaffaber made the honor roll with a 4.0. The comely lass also works at Wendy's.
East Resources was paid $16.41/MCF for gas produced recently in Roane County while their gas in Wirt County fetched $11.21. Of course these prices are much higher than the price other area producers were able to obtain. Perhaps the PSC uses these values to set domestic rates.
The price of local Penn grade crude fell to $59.75/bbl even though the price of gasoline, one of the lower valued end products generally rose.
NiSource, which formerly owned Columbia Natural Resources and is a party to the class action lawsuit, reported that its subsidiary, Hardy Storage Company, converted a producing gas field in the eastern panhandle into a storage field which, when completed, will be able to store 12 billion cubic feet of natural gas. The stored gas will go mainly to the Washington, D. C. Baltimore Maryland area. Columbia Gas Transmission, another subsidiary is expanding its pipeline system to be able to fill the new storage field.
Bob Matthey has the spudder in place to drill in his new well at Munday. One Straight Creek resident who drives that road at least twice each day said he hoped the location didn't slide down and block the highway.
It was reported that the employees of Blue Flame, Martin Twist's most recent company, were told that there would be no more paychecks. The comment was made that there was a payment due on an airplane, private school tuition, etc. Some think that there is another problem and it isn't that Lonny Armstrong was left to hold the bag.
Joe O'Ferrell & Pete Mongeau were attending to business in Spencer. Both are well known oil tycoons.
It was learned that some of the wells that Hard Rock drilled in Roane County "weren't exactly barn burners" but it was said, "that's OK [since others are paying for them and it is to hold the deep rights.]"
A well-known Calhoun oil & gas man, a North Carolina contractor and an Ohio engineer were all attending to business in Creston. One of their topics of discussion was Spencer oil man Junior Hildreth.
Fido, the Communist dictator of Cuba, as an old man used to call him, said that it was awful that corn was being made into corn likker in America (and elsewhere) to be used as a motor fuel to appease the environmental wackos for old Fido claims that the poor will starve. Of course the USDA has been paying some folks to not grow crops so go figure. It has been noted that several million acres of corn must be grown domestically to provide the extra corn for the new distilleries. The DDG (distillers dried grain) is an excellent feed to fatten beef cattle.
There will be two ramp dinners on April 21, one at Brohard at noon and the other at Chloe at 4 P. M.
The Creston spring ATV poker run will be held on Saturday April 28. It should be a great day for family fun.