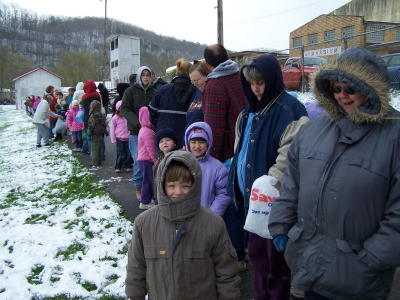 Tension builds for the starting whistle ...
... and they're off across Wayne Underwood Field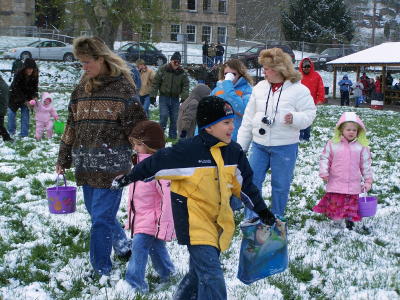 ... in a mad dash for prize-winning eggs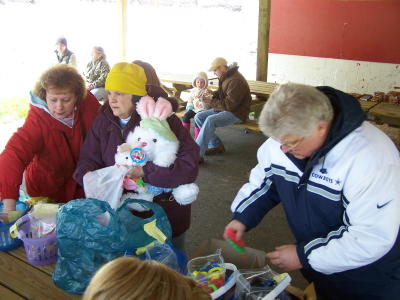 The Oshoways and helpers hand out the prizes
Despite snow squalls and a dusting of snow on Wayne Underwood Field, the 13th annual Melissa Oshoway Memorial Easter egg hunt was a great success.
With the number of egg hunters down slightly, the kids enjoyed the mad dash across the field, but more importantly finding the eggs with prize numbers.
Two egg hunters were winners of a girls and boys bike donated by Spencer's Wal-Mart.
There were 2,000 plastic eggs hidden - 1,000 each for the younger and older children. Gifts - everything from cash to stuffed animals.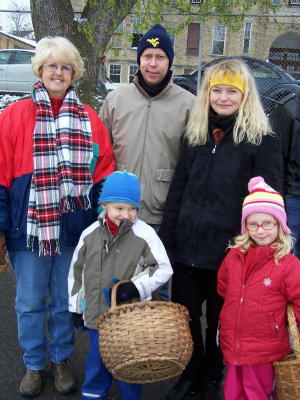 JoAnn Stevens (left) welcomes her Swedish family
Torany and Gunilla Karlson and their youngsters, Sofia
and David visiting Grantsville from Onsala, Sweden
John Oshoway and his wife Sue, with a number of volunteers, sponsored the annual event.
The Grantsville attorney is recovering from serious injuries he received in a car crash, saying "It's a real blessing to be out here doing this again."
The egg hunt has continued after the tragic death of their daughter, now named in her memory.
THE GREAT EGG HUNT