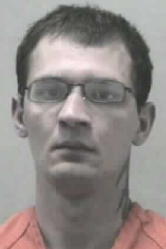 A Reedy, Roane County man, has been arrested after he fled police and wrecked his vehicle Wednesday night.

Steven R. Smith, 27, has been charged with one count of grand larceny, fleeing, third-offense driving on a suspended license and leaving the scene of a crash with property damage, according to authorities.

A pursuit started when State Police started looking for a Jeep Wrangler reportedly stolen in Roane County.

Officers spotted the vehicle traveling north on West Virginia 14 and attempted a traffic stop.

Smith reportedly refused to stop and left State Rt. 14 onto Wells Lock Road, after which the driver lost control.

Police said the Jeep overturned and the driver fled on foot into a wooded area. Officers searched the area, but an arrest was not made until Thursday.