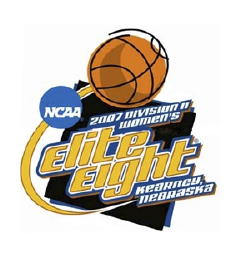 Elite Eight NCAA Division II National Women's Basketball
Championship Brackets and Travel Information Announced
Schedule of Events (All Times are Central Standard Time/CST)
Quarterfinals: Wednesday, March 21
Game 1: 12:00pm (1:00est) Glenville State vs. UC San Diego
Game 2: 2:00pm (3:00est) Southern Connecticut vs. Drury
Game 3: 6:00pm (7:00est) Texas A&M-Commerce vs. Clayton State
Game 4: 8:00pm (9:00est) North Dakota vs. Florida Gulf Coast
Semifinals: Thursday, March 22
Game 5: 7:00pm (8:00est) Winner of Game 1 vs. Winner of Game 2
Game 6: 9:30pm (10:00est) Winner of Game 3 vs. Winner of Game 4
Championship Game: Saturday, March 24
Game 7: 5:00pm (6:00est) Winner of Game 5 vs. Winner of Game 6
The semi-final rounds with be broad cast by ESPNU and the Championship game will be broadcast by ESPN2
Additional Information Concerning the 2007 Division II Women's Elite Eight can be found on the University of Nebraska-Kearney website www.lopers.com
Hotel Address Phone Number (All Area Codes are 308)
1st Interstate Inn 709 2nd Ave. 237-2671
Budget Motel South 411 S. Second Ave. 237-5991
American Inn 215 W. Talmadge rd. 234-3400
Hampton Inn 118 3rd. Ave. 234-3400
Western Inn South 210 3rd Ave. 234-1876
Wingate Inn 108 3rd Ave. 237-5858
Best Western Inn 1010 3rd Ave. 237-5858
Comfort Inn 903 2nd Ave. 237-0838
Country Inn and Suites 105 Talmadge St. 236-7500
Fairfield Inn 121 3rd. Ave. 237-0838
1st Inn Gold I-80 & Second Ave. 234-2541
Midtown Western Inn 1401 2nd Ave. 237-3153
Days Inn Motel 619 2nd Ave. 234-5699
Motel 6 101 Talmadge Rd. 338-0705
Holiday Inn Express 508 Second Ave. 234-8100
Holiday Inn 10 South 2nd Ave. 237-5971
Transportation Information:
Local contacts servicing the Lincoln and Omaha Airports:
Avis: 1-800-831-2847 Budget: 1-800-527-0700
Dollar: 1-800-800-4000 Enterprise: 1-800-325-8007
Hertz: 1-800-65-3131 National: 1-800-227-7368
Thrifty: 1-800-367-2277
Omaha Airport is 2.5 hours from Kearney while Lincoln is 1.5 hours. According to the information received from the University of Nebraska-Kearney (UNK), Omaha is usually less expensive than Lincoln. Kearney does have a small commercial airport and all flights into Kearney go through Denver (Colo.) first and has been noted as the most expensive option.
Ticket Information:
Participating Institutions are not entitled to complimentary tickets; however each participating school will receive 100 tickets for pre-sale prior to the start of the Elite Eight. There will be 100 seats behind each teams bench reserved for these 100 tickets. All fans that request to purchase a ticket prior to March 19 will have their name placed on a will call list that will be provided to UNK prior to the start of the tournament.
These 100 seats will be cleared following each game to make room for the following game/teams fans.
Ticket prices for the Elite 8 are as follows:
All Session Adult General Admission: $35.00
All Session Student/Sr. Citizen (age 60) General Admission: $25.00
Single Session Adult General Admission $10.00
Single Session Students/Sr. Citizen General Admission: $8.00
The UNK Health & Sports Fitness Center will be cleared following each session. A separate ticket must be purchased for each session. Children ages 2 and under will be admitted free in accordance with NCAA guidelines.
The UNK Athletic Ticket Office is located on the west side of the Health and Sports Center. Tickets purchased prior to Friday, March 16, 2007 will be available at the Health & Sports Center will call window, west entrance. Forms of payment for advance tickets that will be picked up at will call are cash, check, VISA or MASTERCARD. 50 Student Tickets will be provided to each institution. Those students will be admitted free with their University ID.
Ticket Sales begin two hours before the first session each day. Session start times and ticket hours are as follows:
Session Ticket Sales Begin Gate Opens
1-Wednesday, March 21, 12:00pm 10:00am 11:00am
2-Wednesday, March 21, 6:00pm 4:00pm 5:00pm
3-Thursday, March 22, 7:00pm 5:00pm 6:00pm
4-Saturday, March 24, 5:00pm 3:00pm 4:00pm
UNK Athletic Ticket Office Information:
Business Hours: Monday-Friday 8am-5:00pm CT
Ph. 308-865-1563; Fax: 308-865-8187 - c/o Michelle
Parking Information:
Spectator/Fan parking is available in the lots around the Health & Sports Center. Additional parking will be provided on west campus, Lot 20. A shuttle will be provided, free of charge to the arena.