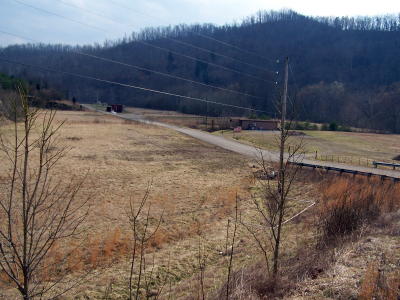 Calhoun's Industrial Park, about one mile east of Grantsville along State Rt. 5, could be in default - never developed because it's on the flood plain
By Bob Weaver
Diane Ludwig of the Little Kanawha Area Development Corporation has advised the Calhoun Commission that a loan default may be looming on the industrial park near Grantsville along State Rt. 5.
A letter has been sent to the local Calhoun Development Corporation regarding the default from the WV Economic Development Authority.
The Calhoun Commission has no ownership of the industrial park.
The park was created about 1983 on flood-plain land sold by the late Carl R. Morris, Grantsville businessman.
The state loan for land purchase and other development in 1983 was for $104,059, but the local development group reportedly received other monies through a Small Cities Block Grant.
It has been referred to by local residents as the "Water Park," since most of it floods from the Little Kanawha River.
Since its' creation, the park has never attracted a business that creates jobs, mostly because of the flood plain problem.
Banks or government agencies will not issue loans on flood plain property where buildings are likely to flood.
Land was sold for Grantsville's water plant, and reportedly small sections have been sold by the CDC to local businessmen, a property sale that is apparently legal.
Over the years, a gas well was drilled on industrial park land, which jeopardized the primary mission of the initial project since buildings reportedly cannot be built for some distance from the well-head.
While it has never been clear why such a deal would be approved for economic development, County Clerk Richard Kirby says the wrong set of maps and specs were used by the Army Corps of Engineers to make the sale.
Kirby says the maps and specs were for another piece of property near Cabot Station.
Still, the property was purchased from Morris and the project was created by the West Virginia Development Authority in Charleston.
The owner of the industrial park, since 1997, is the non-profit Calhoun Development Corporation, whose board of directors are currently listed by the state agency as Jim Morford, president, in addition to Ivy Von Yoak, Glen Fowler and Larry McCallister.
The board members are non-paid and serve as community volunteers.
The county commission has no authority over the project, although an account in the Calhoun Chronicle said the commission exonerated the property from taxes, but the park was granted tax-exempt status when it was created about 1983.
The same article said that the commission was budgeting $3,000 for a secretary for local CDC, but in fact, that money comes from some other source, not local taxpayer money.
The commission has been used as the legal "pass-through" for the funds, but has since decided not to provide the service.
The CDC also owns a building in which Community Resources, Inc. has used in Grantsville for several years.
CRI has announced the closing of their Grantsville office, saying the closure will allow the agency to serve the community better.