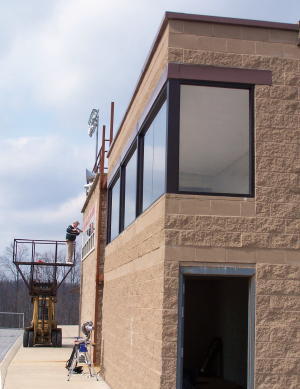 Underwood project "hopefully completed
this summer" says Loyd "Sonny" Wright
Work is continuing on the Wayne Underwood Museum at Calhoun High's athletic complex.
Sonny Wright, president of the CCHS Alumni Association, took over the project following the untimely death of Ox Johnson.
Wright said yesterday that awnings are being installed over the windows of the press box and the Underwood reserved seating box.
"There is a real problem with rain and direct sunlight blocking a view of the field," he said, "The awnings will take care of the problem."
The awnings have been purchased by CHS's athletic booster group.
Wright says the downstairs space will be a fitting memorial
Wright said he hoped the museum will be open later this year. It will contain memorabilia of Wayne Underwood's coaching career and the hundreds of young men who played football under him.
"It was a memorable time," said Wright, "and we hope to have a lot of football shirts, trophies, and photographs of those years on display."
The museum will be located on the first floor of the air-conditioned and heated building, which has reserved box seats on the second floor that will be rented to support athletic programs.
"It has been quite an undertaking," said Wright, "and has involved a lot of donated money and labor."
"It will be a fitting memorial," he concluded.