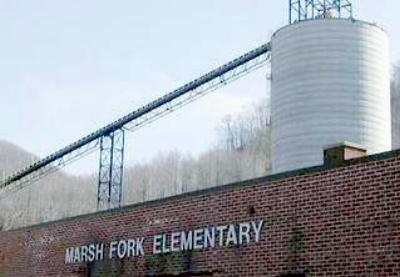 By Bob Weaver
Score one for Massey Coal.
The state of West Virginia Surface Mine Board has cleared the way for the construction of a second coal silo near a Raleigh County elementary school, adding tons of coal dust for children to breathe.
A Coal River Mountain Watch protest is scheduled for tomorrow in Charleston at the Liberty Bell at 10:30 a.m., a rally for a new school.
This week's ruling overturns the Department of Environmental Protection's decision last year to reject a Massey Energy subsidiary's plans to build the silo within a few feet of Marsh Fork Elementary.
Goals Coal appealed the DEP 2006 order, alleging the agency denied the silo permit because of Massey CEO Don Blankenship's political battle with Governor Manchin.
DEP rejected the permit after they originally gave approval. The rejection came after it was discovered the planned silo was to be built outside of the company's permitted area and too close to the school.
Coal River Mountain Watch has said common sense goes out the window when dealing with Massey, who says it seems fine to have the operation adjacent an elementary school.
Neither the state Department of Education nor the US Environmental Protection Agency determined coal dust levels in the school. The EPA's test was not done during normal operation of the coal plant.
Don Blankenship praised this week's ruling.
The sludge dam just 400 yards above the school holds 20 times the volume of the Buffalo Creek sludge dam disaster that killed 125 people in 1972.
THE HISTORY OF MARSH FORK SCHOOL
Marsh Fork Elementary School sits just 225 feet from a coal loading silo that releases chemical-laden coal dust and 400 yards from a 385 foot tall leaking sludge dam with a nearly 3 billion gallon capacity.
Independent studies have shown the school to be full of coal dust.
Massey Energy who owns the coal processing facility has been attempting to build a second coal processing plant near the school for years, but community opposition, action and research led the Department of Environmental Protection to reject Massey's permit request for the second silo.
On March 13 the state Surface Mine Board overturned the Department of Environmental Protection order that blocked the silo.
Community members have been working for years on getting a new school for the children that attend Marsh Fork Elementary in their community so that they don't have to breathe coal dust and toxic chemicals daily.
The grandfather of a recent Marsh Fork graduate walked from West Virginia to DC to raise support for a new school and to meet with Senator Byrd to request a new school in the community.
And elementary students around the world have written letters to Governor Manchin and collected pennies to help build a new school.
For earlier stories use the keyword Marsh on SEARCH