Submitted by Jean Simers

The seventh Saturday Fun and Learning day was held on Saturday, March 10th at Calhoun Middle-High School. The event is a cooperative project through Heads Up, GEAR UP, and the Parent-Educator Resource Center.

There was approximately 130 parents and students present for the day. The students had two classes - Bicycle Safety taught by Jim Bennett and Richard Kirby, and African Drums taught by Steve Hall, assistant professor at Marshall University.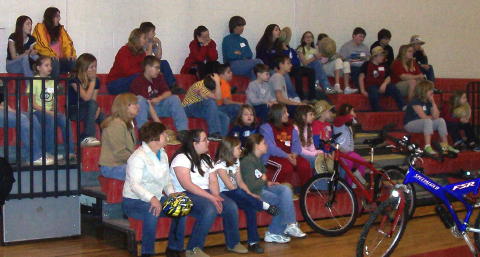 Students receive bicycle safety helmets
Each student who attended the bicycle safety class either received a free bicycle helmet or was measured for one and will receive one in the near future. The Calhoun Family Resource Network donated 41 bicycle helmets. The remaining 32 helmets will be purchased through the Heads Up 21st Century Community Learning Center grant.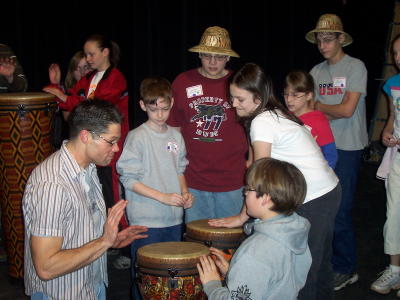 Several students were interested in African drums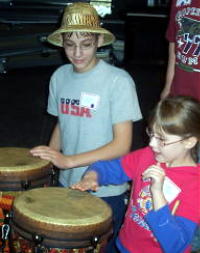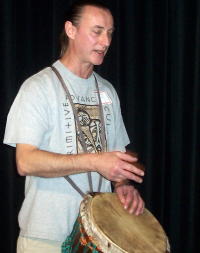 (L) Josh Hanshaw and Erica Jones give them a try
(R) Instructor Steve Hall demonstrates drum technique
Students demonstrated their African drum talents for the parents before eating lunch catered by Calhoun Middle School Boosters.
Parents winning $20 Wal-Mart gift cards donated by Heads Up were Tammy Anderson, Paula Boggs, Jamie Ohse and Beth Stull. A Fairmont State College GEAR UP blanket was won by Larry Baker.
Plans are being finalized for the May 5th trip to the Pittsburgh Zoo. If parents and their children attended five of the eight Saturday Fun and Learning Days they are eligible for the trip.
The eighth Saturday Fun and Learning Day is scheduled for Saturday, April 21, 2007 beginning at 10 a.m.
For more information contact Jean Simers, Heads Up Coordinator, at 354-7595.