Lady Pioneers Face #3 Seed IUP in the NCAA East
Region, Division II Championship Monday at 7 p.m.
By Drew Moody
Special to the Hur Herald
The past seven days have been eventful for Glenville State College's basketball royalty.
A week ago Saturday the Lady Pioneers captured the crown of the WVIAC Championship in Charleston - the fourth time in eight years. Rachel Redick, Casey Taylor, Karina Kendrick, Melanie Oliver and head coach Steve Harold were all individually honored.
Saturday night the Lady Pioneers defeated 4th seed Anderson University (SC) 78-64 to earn a final round birth.
In the days between the WVIAC and NCAA tournaments, Glenville held on to its National #2 ranking in the latest USA Today/ESPN poll. No other WVIAC team has ever achieved as high a position.
Senior guard Rachel Redick added to her list of honors by being named Daktronics Women's Basketball East Region Division II Player of the Year. Redick was also named to the NCAA First Team All Region Squad.
Redick is the WVIAC's all-time leading scorer and was previously named the conference Player of the Year and WVIAC championship tournament MVP. And for a second time she was presented with the tournament's Heart and Hustle award.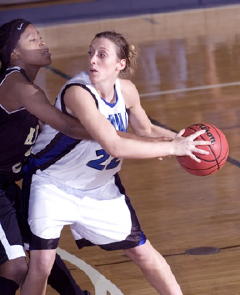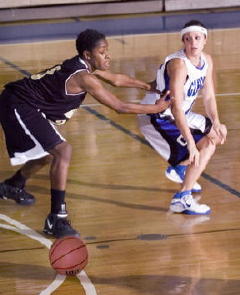 (L) Rachel Redick looks for open teammate while being fouled by
IUP player trying to get her hand on the ball (R) Mallory Menendez
looks back as she throws a backwards bounce-pass to a teammate
And so now Redick and her extremely talented teammates are at the threshold of winning the NCAA East Region Championship. That victory would catapult the team onto the national stage and the famed Elite Eight Championship in Kearney, Nebraska, beginning March 21.
Poker: All These Cards Are Dealt Face Up
Few, if any, secrets will exist between Glenville and IUP by Monday night's game. Each will know the opponent's strength and weaknesses. And both coaches will have formulated a strategy for victory.
What's standing between the Lady Pioneers and the NCAA East Region title is one potentially formidable opponent - the Indiana (Pennsylvania) University Crimson Hawks (IUP).
At the end of the season, IUP is a better team than their record indicates.
True enough IUP has a 24-8 overall record, compared to the Lady Pioneers 32-2. The Crimson Hawks have no national ranking. And the team suffered early season losses to Glenville, West Liberty, Wheeling Jesuit, and Pitt-Johnstown.
The Crimson Hawks defeated Barton College 75-61 in Friday's quarterfinals, then ended an eight-game losing streak eliminating Pitt-Johnstown 75-59 in Saturday's early semi-finals match. Katie Glaws (25), senior guard, hit six three-pointers, finishing the night with a game high 20 points.
The odds of a win are in Glenville's favor, but if you compare schools it's a David and Goliath match.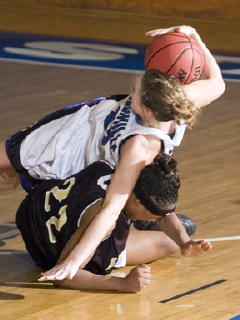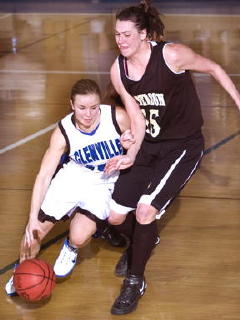 (R) Rachel Redick rolls over this IUP player fighting
for and getting a loose ball. (L) A slight mis-match
as Lauren Strong dribbles around this lanky IUP player
IUP is Pennsylvania's fifth largest university, offering more than 100 undergraduate degrees and 40 graduate programs. Admission is selective, with only about 55-percent of those applying gaining admittance. About 12,000 undergraduate students call IUP home.
It is considered by some to be "an ivy league" quality school.
On a good day, if the wind is blowing right, Glenville State College proudly has around 1,300 students. In short, Glenville is roughly 10-fold smaller.
Statistically, since the pool of potential athletes is so much larger, it's mathematically reasonable to assume IUP might run Glenville off the court.
No so.
Illogically, and a more interesting question to ponder, is why many of the nation's best women basketball players call Glenville, West Virginia home?
Each of them decided to call this one 'stop & go light' county home because of the quality of the Glenville State College basketball program. Secondly, although Glenville State in comparision to IUP has far fewer course offerings - the school has a long-standing reputation of excelling at those programs that are offered.
Both Team's Lowest Scoring Game
When the Lady Pioneers met IUP earlier this season it took 11 minutes for Glenville to score. Although winning 56-47 after a shaky start, it was no easy task.
Why?
The Crimson Hawks and Lady Pioneers have similar strengths. During IUP's 75-59 semi-final victory over Pitt-Johnstown, it was a merciless full-court press that unraveled their opponent. And junior point guard Lauren Fisher (5) is a smart, cool, and fast leader - very much like Rachel Redick.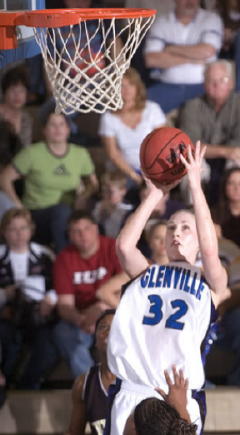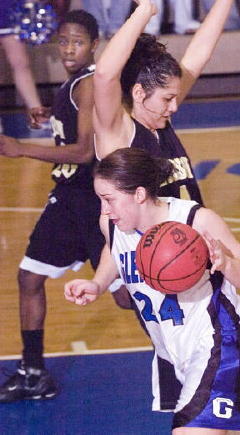 (R) Casey Taylor's high jumper is picture perfect
smooth. (L) Christy Alltop heads down the lane for a shot
Redick or Fisher can be standing still one second, and a blur the next, finding either a near miraculous path to the basket or an assist - faster than the eye or defense can follow.
The game promises to be a defensive weighted contest.
On the scoring side, IUP's Katie Glaws is a proven triple-point threat.
Lady Pioneers head coach Steve Harold predicted he'll be spending at least one sleepless night determining the best strategy to use for a win.
IUP's head coach Cindy Martin will likely do the same.
Both teams know the stakes. The Lady Pioneers and the Crimson Hawks will be playing to win.
Home Court Advantage
Weighing heavily in Glenville's favor are several factors, not the least of which is a home court advantage. Harold credited Lady Pioneers fans with helping the team turn around an early deficit against Anderson University Saturday night. The Lady Pioneers were down as many as eight points until finally taking the lead two-thirds through first half play.
The Lady Pioneers are on a 26-game winning streak coming into Monday's finals. This is the team's sixth consecutive NCAA tournament appearance. Harold said Saturday he estimates since January 1, 2000 the Lady Pioneers have a 90-2 winning record at home.
The Lady Pioneers with four seniors are more mature, well-seasoned, team than IUP.
And these particular four seniors: Rachel Redick, Casey Taylor, Lauren Strong and Christy Alltop have a desire to win like someone who thirsts for water in a desert.
True enough, they've all been here before. These seniors were a part of a winning program each of their years at Glenville. Together and individually they've garnered numerous accolades and titles.
The differences, however, are just as clear.
No previous team during Harold's tenure has had such a depth of talent. This Lady Pioneers team has raised the bar of excellence considerably - for the WVIAC and the NCAA East Region.
For these four it's their last chance to see just how far they can go.
Redick, Taylor, Strong and Alltop are no more than four games away from ending their college basketball career.
They're all at the top of their game and they know how to win.
And this time - collectively - they want it all.
A Not So Secret Weapon
During a Saturday post-game press conference Steve Harold said unequivocally, as far as he's concerned, Lauren Strong was the best defensive guard in this part of the country. "She deserves an award of some kind."
Rachel Redick smiled and nodded in agreement.
Strong paces an overwhelming defensive effort for the Lady Pioneers. Only Redick had substantially more floor time than Strong Saturday night and for the entire 29 minutes, just like any other game, Strong never lets up. She's an "in your face" offensive nightmare.
The nature of Lady Pioneers basketball is a very physical game. Casey Taylor's arms are regularly bruised. Rachel Redick is often the target of intentional fouls and willingly plants herself in front of driving offensive players, drawing fouls and often getting knocked to the floor in the process. Saturday night she was run over at least three times.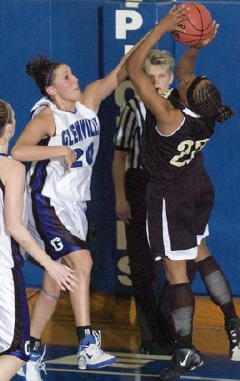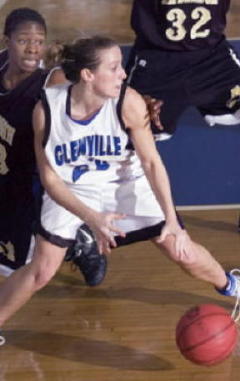 (L) One of Karina Kendrick's seven blocked shots. (R) Rachel Redick works the ball inside, deciding whether to cross the lane or feed a teammate
Christy Alltop was hit so hard Friday night, sliding across the floor and hitting the wall behind the back-board, referees called an intentional foul on opponents. Teammates rushed to her side. Alltop looked a little dazed, but got up and shook it off.
Lauren Strong frequently hits the floor as well, for the same reason as Redick, to draw fouls on opponents. Strong applies such ceaseless pressure it often overwhelms the offense, causing the opponent's strategy to crumble.
Add four Lady Pioneer teammates applying similar pressure and it's not uncommon to see a team unable to run plays. You get the feeling the pressure is analogous to a quarterback keeping an eye on down-field receivers while watching three lineman closing in - the end result similar to standing still and getting run over by a car.
In many cases it's simply overwhelming.
Aces and Wild Cards
Karina Kendrick, 6'-0" junior forward, is experiencing an end-season performance spurt that has elevated her already strong defensive presence into a full court threat. WVIAC officials acknowledged her contribution by naming her to the All-Tournament team with Redick and Taylor.
She took no prisoners Saturday night, not only blocking seven shots, but often with such force she either snatched the ball out of the air, or threw the opponent to the floor like a rag-doll. She also scored seven and nabbed eight rebounds.
Both Kendrick and WVIAC freshman of the year Melanie Oliver are potentially fierce and have the strength to control any part of the court they choose. Oliver led the WVIAC in offensive rebounds, and had six double-double efforts this season. She averaged 10.3 points and 7.8 boards per game.
Rounding out that mix is 6'-2" Casey Taylor who can do it all with seemingly effortless ease. Taylor's liquid smooth shots usually hit their mark and her dependability on the court rivals any teammate. Taylor recently revealed she's been battling a minor illness and hasn't felt well since December. She averaged 16 points a game during the season.
Lauren Strong and Christy Alltop can hit three-pointers, drive, rebound, and take on point guard duties. Strong and Alltop, along with Mallory Menendez, have been known to start a scoring blitz, psychologically lifting the team out of a rut.
Pound for pound, fans won't see a tougher scrapper than Christine DiSabato. She's the pit-bull of the team.
Donita Adams is quick as a cat. Despite being only 5'-7" she jumps like a 6-footer. As she gets more playing time her confidence and game continues to improve. Saturday night she grabbed five rebounds and scored four.
Perhaps more formidable than any one Lady Pioneer is that while a defense can collapse on Redick, attempting to prevent her from scoring, any one of the team is a threat. Double-teaming Redick results in other scoring opportunities opening up, so no advantage is gained.
Upon entering post-season play freshman guards Miranda Reed and Casey Heller haven't seen much court time.
And as Coach Harold observed earlier in the season - these girls don't care who gets the glory as long as they win.
Saturday Night's Victory Over Anderson University
The opening minutes didn't look good for Glenville. Anderson was easily getting inside shots and driving up the lane. In the initial five minutes the Lady Pioneers had managed to score only four points; Anderson led by six.
The gap was unchanged past the mid-way point, the Lady Pioneers still trailed by six, 11-17.
At just over the nine minute mark Donita Adams grabbed an offensive rebound and scored. Anderson answered the basket.
Rachel Redick drew a foul, nailing both charity tosses, closing the decifit to four.
Karina Kendrick made a big steal, then scored inside and was fouled. She converted the shot from the line, closing the gap to one, 18-19 with 8:13 left.
Less than 30-seconds ticked off the clock and Redick hit her first triple putting the Lady Pioneers in the lead for the first time of the evening. She let fans and Anderson University know it was just a dose of what was to come.
Lady Pioneer fans responded loudly to her effort. Everyone in the gym felt the tide of the game turn in that moment.
Redick led the team on a scoring drive that in three minutes gave Glenville a 10-point lead. The Lady Pioneers had control of the game outscoring Anderson 13-2. The score stood 39-23 with 1:22 remaining.
Christy Alltop closed the half with a triple, heading to the lockers with a 16-point lead, 42-26.
Alltop opened the second half with another three-pointer. Taylor hit for two, Kendrick blocked a shot and notched a steal from the play as well, starting a fast break that ended with Taylor scoring underneath. Glenville led 52-37 with 13:48 left.
Anderson was called for a technical, as the team began to unravel.
The Lady Pioneers led by as much as 24 with just over three minutes left.
The game ended with Anderson trailing 14, 78-64.
By game's end four Lady Pioneer starters were in foul trouble.
Rachel Redick led all scorers with 29 points. She also had eight assists, five steals, and three rebounds. Melanie Oliver followed with 16 points and seven rebounds. Christy Alltop had 10 points and four rebounds. Casey Taylor finished the night with nine points, two blocks, and five rebounds. Karina Kendrick had seven blocked shots, two steals, eight rebounds, and two assists.