The Lady Pioneers improved their season record to 31-2 and move to semi-final play tonight in the NCAA East Region, Division II Women's Basketball Championship being hosted by Glenville State College.

Melanie Oliver paced the Lady Pioneers with a double-double, grabbing 11 boards and 18 points.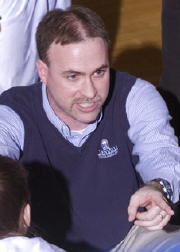 Lady Pioneers head coach Steve Harold
(left) gets serious during a time-out.
Casey Taylor, leading scorer with 20 points, nailed Glenville's first two buckets. Taylor grabbed 8 rebounds, and had four steals.
The game started slow with several missed shots and turnovers. St. Andrews found the hoop first and tied the score at 4 with just under 16 minutes remaining in the first half.
A Lauren Strong three-pointer gave the Lady Pioneers the lead and from just over the 15 minute mark St. Andrews was never closer than one down.
Rachel Redick hit a triple at the 13:25 putting the Lady Pioneers up four, followed by buckets by Taylor and Melanie Oliver and with just over 12 remaining in the half Glenville had a six-point lead 16-10.
St. Andrews was initially successful inside against the Lady Pioneers, but a succession of quick baskets by Glenville increased the deficit fast.
Christy Alltop, Rachel Redick, Mallory Menendez and Casey Taylor all scored three-pointers within five minutes of play and St. Andrews was down 14 points at the three minute mark, the score 34-20.
Taylor followed up her triple with two more buckets and closed out the half 38-22.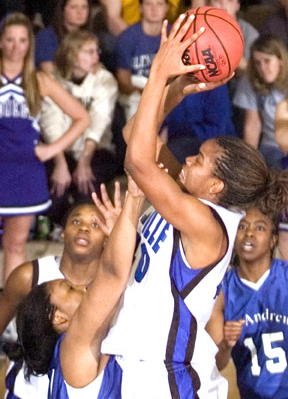 Melanie Oliver goes high for this jumper hitting for two
(Photos by Drew Moody)
Melanie Oliver put her mark on the second half scoring several buckets off offensive rebounds. She finished the night with 18 points and was the Lady Pioneers second highest scorer.
The final minutes opened with a 13-0 Lady Pioneer run and nearly seven minute ticked off the clock before St. Andrews scored again.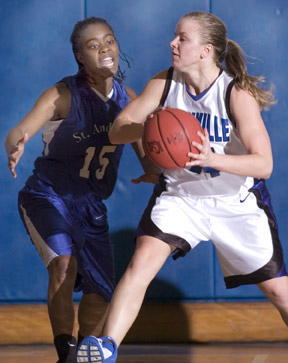 Lauren Strong getting ready to fire a pass across
court. St. Andrews Ashley Mitchell is defending
Rachel Redick finished the night with 17 points, five steals and six assists. Christy Alltop had nine points and four rebounds. Lauren Strong finished the night with seven points, five assists and three rebounds.
The Lady Pioneers advance to semi-final play taking on Anderson University at 8 p.m.
Indiana University of Pennsylvania (IUP) will face Pitt-Johnstown (UPJ) in the 6 p.m. semi-final.
Eliminated from the tournament Friday was Barton who lost to IUP 75-61, Pfeiffer defeated by UPJ 71-58, California PA, defeated by Anderson 61-57 and St. Andrews who lost to Glenville.
The NCAA East Region, Division II Women's Championship will be Monday at 7 p.m.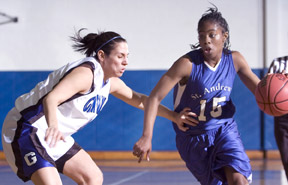 Christine DiSabato guards St. Andrews Ashley
Michell as she brings the ball up court