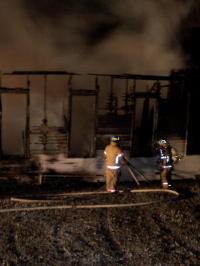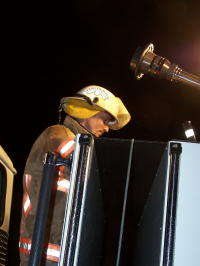 Three fire departments responded to a church fire (L) last
night, (R) a Spencer-Roane VFD firemen mans pumper truck
The Independent People's Baptist Church at the intersection of Egypt Ridge and Triplett Road was destroyed by fire last night.
The structure was in flames when the Spencer-Roane Volunteer Fire Department quickly arrived on scene, many of the firemen were at the station for training night.
Firemen managed to save most of an adjacent Sunday School, said Pastor Darrin Cale. The siding melted on part of the building and there was some damage inside.
Pastor Cale said there are no clues about what started the fire. Parishioners held a service in the building the night before, he said.
Cale has pastored the church for three years, saying it has been really blessed with one of the larger rural congregations in the county.
Cale, saddened by the loss, said "He's still a great God, and he has been good to us... we'll move in some direction with His help."
Firemen were concerned about a propane tank adjacent the church.
The Clover and Gandeeville VFDs also responded.