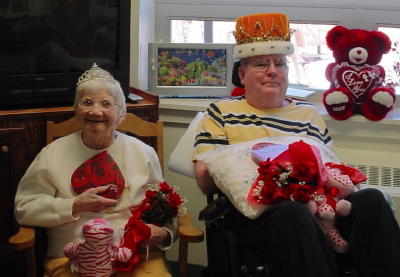 Submitted by Jan Poling
The Long Term Care Unit of Minnie Hamilton Health Care Center held their annual Valentine Tea on February 10.
Special singing for the event was provided by Patty Mangus. The newly elected 2007 King and Queen of the nursing home are Lawrence (Larry) Ball and Retta Johnson.
Queen Retta is the mother of Billy Joe Johnson. He is married to Jane and they reside in Texas. She has five grandchildren: Dave, Bill, Debby, Marty, and Jody. She has seven great-grandchildren: Amy, Andrea, Nicole, Tiffany, Whitney, Jeremiah, and Pierce. And she has one great-great-grandchild, Erica. She has six brothers: Sam, Duck, Cleo, Junior, Sheldon, and Festus (now deceased). She has two sisters: Rachael and Geneva.
Her past employment includes working as a cook at the old Hope Hotel (better known to most as the Rainbow Hotel) and working at Rubber Fabricators, Inc. She was also a seamstress for many people in her community. Her hobbies included sewing, crocheting, and making quilts. She says she enjoys everything and participating in activities at the nursing home. She also enjoys children and visiting with friends and family.
King Larry is a retired school teacher. He was married to his wife, Sheila, for 29 years. She passed in July 2004. He was a music teacher in both Calhoun and Wirt Counties for many years. He has one sister Joyce who states she "tries to keep him in line," a brother-in-law, Lacy, a nephew, Dustin, a niece, Trish and her husband, Roger, and a great niece, Tara.
Larry says he enjoys playing bingo, however, his favorite game is domino's. He prides himself in being #1. He also enjoys watching DVD's, listening to his scanner, and visiting with friends and family.