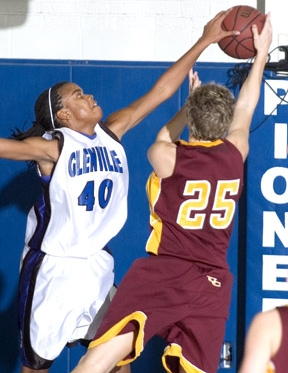 Melanie Oliver (40) gets a clean block on a
Rachel Pike shot during second half play Saturday
(Photo by Drew Moody)
It was billed 'the game of the season,' but it turned into a virtual blowout as the Lady Pioneers led by as many as 30-points.
Early in the game both teams were plagued by turnovers. But the University of Charleston failed to capitalize on the opportunities, allowing the Lady Pioneers to control the floor.
Both teams shot a dismal 40-percent during first half play.
Glenville's record improved to 24-2 overall, 15-0 in WVIAC conference play.
High point scorer Rachel Redick, netted 26 points and is just 35 points shy of tying the all-time WVIAC scoring record.
The Lady Pioneers meet Bluefield State Thursday night at home. Game time is 5:30 p.m.
Look for additional game coverage Monday.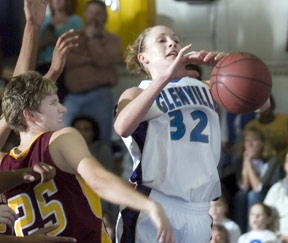 Lady Pioneers Casey Taylor has shot batted
away by University of Charleston's Rachel Pike
(Photo by Drew Moody)