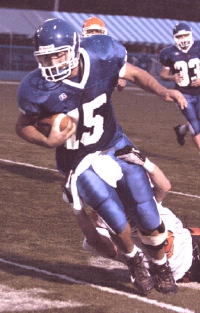 Dustan Fox breaks out of the pocket on a run against Wirt County last season. It frequently took more than one would-be tackler to bring Fox to the ground
(Photo by Drew Moody)
Dustan Fox, a first team All-State football player from Glenville, has signed to play at GSC this fall under Head Coach Alan Fiddler.
"He's a great addition to the program...to the school," Fiddler said. "We're real excited to have him come here."
Fiddler also noted Fox would have the opportunity to potentially play several different positions.
Even a newcomer to a Gilmer County football game would have found it difficult to miss Fox on the field.
He was a running quarterback who didn't hesitate to take the ball down field, often breaking tackles with his sheer effort, or dragging opponents behind. In addition, Fox was also the team's field-goal kicker, punted the ball and played middle linebacker on defense.
For a young man of 18, he has a cool head under pressure and is uncommonly driven. On one memorable occasion early last season, when the center was having difficulty handling the 'snap' on punts - the ball went wild. As the defense closed in, the situation appeared hopeless. A tackle where Fox picked up the ball would amounted to a huge loss in yardage and put Gilmer's opponent in easy reach of the goal.
Fox avoided the onslaught of tacklers, started sprinting up-field and as he neared the line of scrimmage successfully punted the football on-the-run.
By signing with Glenville State, Fox turned down a walk-on opportunity at WVU. Marietta College in Ohio was heavily recruiting him for track and football.
His parents, John and Donna Fox of Glenville, are happy with the decision. Both attended Glenville State College and graduated from Gilmer County High School.
Donna is a recent graduate of Glenville, completing her degree in 2005. "As far as getting an education," she said of GSC, "I think it's great." She advised her son the teachers at Glenville "really care" and will take time out to help students anytime there are questions.
When asked what made him so focused at such a young age, Fox didn't hesitate in his reply.
"My Dad's always been a hard worker. He was a tough ballplayer. I just wanted to be like my Dad," Fox said.
Dustan's older brother, J.T., was also a member of the Pioneer football team.
The 6'-2" 230-pound soon-to-be GSC football player is currently starting forward on Gilmer Co. High School's basketball team, ranked seventh in the state.
In his sophomore year in high school Fox was named First Team, All-Conference QB, Second Team All Mid-Ohio Valley QB and Second Team All-State linebacker. He shattered his wrist after playing two games his junior year. The injury required almost a year to completely heal.
Following the 2006 football season Fox was named to First Team All-State Defensive Utility, First Team Mid-Ohio Valley linebacker, and First Team All-Conference linebacker.