The Lady Pioneers turned another corner in a very successful season. They completely dominated the court and did so with a determined, but relaxed confidence.

WVIAC third ranked West Liberty came to Glenville to play, and it appeared an offense had been designed around the Lady Pioneers crushing defensive. Their passes were quick, the offense was spread out, but they failed to get the ball through the hoop.

Christy Alltop, senior guard, of Palestine, WV, turned in her best game of the season. She had four steals, four assists, five rebounds and scored 11 points. Alltop set the pace early on and the rest of the team followed suit.

After five minutes of play the Lady Pioneers began pulling ahead and had their opponents score doubled at one point.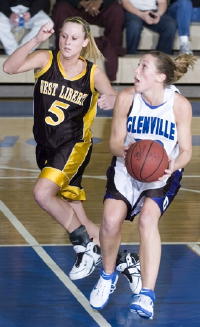 Rachel Redick pulls up at the foul line for two of her 28 points. The All-American is the second highest scorer in West Virginia WVIAC women's sports history. With 52 more points she'll hold the top spot. West Liberty's Charity Street is faked out and heads to the basket (Photo by Drew Moody)
Rachel Redick was smooth and hot, and her play was flawless. She nailed six of 10 three point attempts and closed out the night with 28 points.
Redick is just 51 points away from tying Charleston's Lisa Lee's all time scoring record.
Casey Taylor followed Redick with 15 points.
The Lady Pioneers are on the road mid-week, meeting sixth ranked (WVIAC) Concord. (16-7 in conference play). Saturday at 5:30 p.m. they take on Charleston at home. It promises to be "the game of the regular season" for the perennial rivals.
The Lady Pioneers moved up a spot, to fifth, in Tuesday's latest USA Today-ESPN National Poll. They also hold the number one spot in both the NCAA Division II East Region standings and the WVIAC.
Charleston is the number two ranked team in the WVIAC and M.I.A. from the East Region or National standings.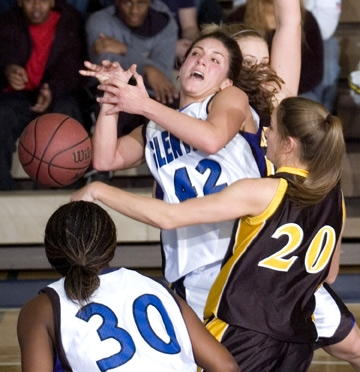 Freshman guard Casey Heller has her shot blocked unexpectedly by West Liberty's Kayla Tennant. Glenville's Donita Adams is in the foreground
(Photo by Drew Moody)