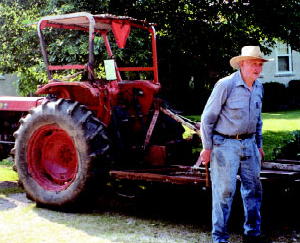 Garrison Tawney said he got cheated and launched
a landmark decision regarding payment of royalty
(Photo compliments of Lela Anne Tawney Goff)
By Joe Morris
Staff Writer-Charleston Gazette
www.wvgazette.com
The landmark lawsuit that has rocked West Virginia's multibillion-dollar natural-gas industry sprang from the stubborn suspicions of an 89-year-old retired Roane County teacher who couldn't make sense of his royalty checks.
Garrison Tawney died at 90, about two years before the lawsuit he started culminated in last month's dramatic verdict: a $405 million decision upholding claims that 8,000 gas-rights owners had been shortchanged of a fortune by one of the state's biggest gas production companies.
"He died peacefully, in his sleep," said daughter Lela Anne Tawney Goff. "But he might have died during the trial -- he would have been so upset to learn how they were cheating us."
A Roane Circuit Court jury ruled late in January that Columbia Natural Resources LLC and two other gas companies associated with it had underpaid royalty owners throughout West Virginia by $134.3 million and deserved to pay $271 million more in punitive damages.
The company had lease agreements with the plaintiffs allowing it to drill for gas on land they owned, but it failed to pay them market rates for the gas, as their contracts required, according to the suit.
It also shortchanged the owners by wrongly deducting post-production and processing costs, making volume deductions and by not paying for gas that its lines lost, the suit charged.
Columbia Natural Resources was taken over by NiSource Inc. in 2000 and eventually resold to Oklahoma City-based Chesapeake Energy Corp., which now owns it. Both NiSource and Chesapeake are defendants in the suit, with NiSource bearing most of the liability, but neither company will specify how the burden is split.
NiSource, of Merrillville, Ind., and Chesapeake promise they'll appeal the verdict if the court lets it stand. Judge Tom Evans could set it aside or change the amount when he rules on the verdict, probably late this month.
In the meantime, they and other state gas producers warn that the ruling in Tawney vs. Columbia Natural Resources threatens to cripple West Virginia's gas industry.
"This decision could ripple through the energy industry and, if not corrected, would have a chilling effect on West Virginia's economic future," said NiSource spokesman Karl Brack.
"This is absolutely an industry issue," says Chesapeake spokesman Scott Rotruck. "Everybody is similarly situated in the issue of post-production expenses."
Chesapeake knew about the royalty-lawsuit liability when it took over the Columbia unit in 2005, Rotruck said. "But in our worst-case scenario we never dreamed that it [the damages decision] would be that bad," he said.
Now the company is threatening to back out on its decision to build its regional headquarters in Charleston because of the decision. It has already bought 27 acres in the NorthGate business park and finished designing the building, Rotruck said. But the groundbreaking, which had been scheduled for April, is postponed indefinitely, he said.
Officials want to see how Evans rules and then, if necessary, see if any legislation could be passed to protect gas companies from similar verdicts, Rotruck said.
"We're looking into what possibilities there may be in terms of legislation to correct this," he said.
Gov. Joe Manchin said last week that he had begun consulting with lawmakers on legislation to clarify state laws covering royalty payments.
The target of NiSource's challenge, Brack says, will be the argument that the driller was guilty of deliberately defrauding the owners, as opposed to honestly differing with the owners in its interpretation of the contract terms. It was the finding of fraud that led to the punitive damages.
"In our view, the verdict on a number of fronts is flawed," Brack said. "But the dramatic level of punitive damages is where we do take extreme issue."
As part of the suit's proceedings, the state Supreme Court was asked to analyze the contracts and determined that they were unclear regarding Columbia Natural Resources' obligations to gas owners, Brack said.
One reason the defendants lost was that they were not allowed to present testimony from witnesses who could have explained why Columbia Natural Resources officials interpreted the contracts the way they did, Brack said.
"That evidence would have showed we had operated in good faith, with no intention to defraud or conceal the practices going on," he said. "There's evidence this was fairly common practice, and no one in the industry, including CNR, made any attempt to disguise it."
Goff, on the other hand, said she felt particularly vindicated by the punitive damages, likening them to the penalty a robber would have to pay beyond repaying money stolen.
"It wasn't at all out of line," she said. "It was just double what they owe all of us."
The trial showed that Columbia Natural Resources would report to the state that royalty owners were being paid according to a higher volume and rate than it reported to the royalty owners themselves on their checks, Goff said.
"They were concealing this from us," she says. "The punishment should fit the crime."
Garrison Tawney taught fourth and fifth grade as well as working as principal at Geary Elementary in Left Hand. Until the mid-1990s, he also ran the cattle and hay farm that sits on about 300 acres of gas-rich land leased to Columbia Natural Resources and its subsequent owners.
The land had been in his wife's family since the early 1900s, and he shared ownership of it with Goff and another daughter, Janice Cooper of Eden, Md., after his wife died in 1999.
It has been blanketed with shallow wells for decades, while Columbia Natural Resources drilled its first deep well just seven years ago, Goff said.
Over the years, Tawney began questioning the rates he was being paid, especially after he discovered that friends leasing to other drillers were getting more — in some cases as much as three times more, she said.
So he took his suspicions to George Scott, a Roane County lawyer and former state Supreme Court justice, who wrote a letter of inquiry to Columbia Natural Resources.
"The response wasn't satisfactory," Goff said. He and Scott then decided to work on a case, hiring Scott's Charleston firm, Carey Scott & Douglas PLLC.
About that time, two other Roane gas owners, Orton Jones and Larry Parker, were also asking about discrepancies in their receipts, and they joined the suit.
"As the investigation went on, we found the problem was widespread," Goff said. "Lots and lots of people were having the same problem."
Three more law firms were brought on - the Masters Law Firm LC, Segal Law Firm and Bowles Rice McDavid Graff & Love - and the class ballooned gradually to 8,000 people.
Tawney stayed involved till the end, Goff said.
"He was always very active in the investigation," she said. "The main thing that really disgruntled him were the zeros under 'production charges'" in the royalty receipts. "CNR was taking gathering and other post-production charges from our checks without reporting it to us," she said.
But Goff said her father would have been positively infuriated to learn, as the jury did during the course of the trial, about the "golden parachutes" worth $155 million awarded to Columbia executives as part of their sale to NiSource. The chief of Columbia Energy Group, the parent of the Columbia Natural Resources unit, got a $24 million severance package as part of the sale, she said.
It was clear that NiSource and Columbia were stinting gas owners in order to finance these payouts, she said.
"We thought they were only withholding deductions," she said. "He [Tawney] would have been really upset to hear about the golden parachutes pertaining to their merger."
The plaintiffs point to just this kind of evidence in the case as ammunition designed to play on the jury's emotions.
"We're very happy to discuss the merits of the contracts and lease agreements, and what they should and should not have included," Brack said. "But there was a lot of extraneous evidence put before the jury, obfuscating the heart of the matter -- contracts and lease agreements -- that, admittedly, are hard to understand."
The wave of corporate scandals in the past few years -- none more significant than the collapse of the Houston energy-trading company Enron Corp. -- put the jury in an accusatory frame of mind that the plaintiffs' lawyers inflamed, said Nicholas "Corky" DeMarco, the director of the West Virginia Oil and Natural Gas Association trade group.
"Had we not had Enron, I don't know that the decision would have turned out the way it did," he said.
But Goff credits her lawyers with exposing nothing short of a massive fraud.
"Watching the trial was like seeing a puzzle being put together," she said. "They [the defendants] had a lot of expert witnesses and testimony, but our lawyers really picked them apart."
Read the story with additional photos www.wvgazette.com