The Lady Pioneers dominated both ends of the court in a 88-54 win over West Virginia State Saturday night at home. Overall the Lady Pioneers are 22-2 and currently ranked the number one team in the East Region NCAA Division II.

Once again the Glenville defense overwhelmed opponents, applying such pressure on WV State the team lost their composure early on.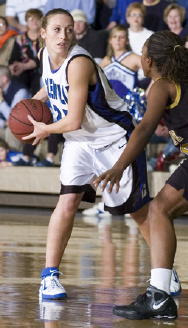 Rachel Redick (left) led Lady Pioneer scorers netting 30, including two triples and 12 from the line. Saturday night she became the second highest point scorer in WVIAC women's basketball history with an all-time point total of 2151 (Photo by Drew Moody)
It took WV State nearly five minutes of play to get points on the board. And led by Redick, Taylor and Strong Glenville jumped to an early lead.
The defense, combined with virtual control of the backboard and repeated fast breaks took its toll and the Lady Pioneers let 19-4 near the midway point in the first half. The half closed out at 40-18.
WV State players turned physical and committed what appeared to be several unnecessary fouls; once slamming Redick hard to the floor. The pushing netted the team a technical foul with slightly more than 16 minutes left to play. The score stood at 53-29.
Redick converted two charity tosses, hit a triple, and forced a turnover which ultimately sent Lauren Strong to the line, and with 14:41 left the Lady Pioneers led by 60-30.
Glenville led by as much as 40 in the waning minutes of the game. Rachel Redick led Glenville scorers with 30, hitting 12 of 12 from the charity mark. Overall the Lady Pioneers were 27 of 35 from the line.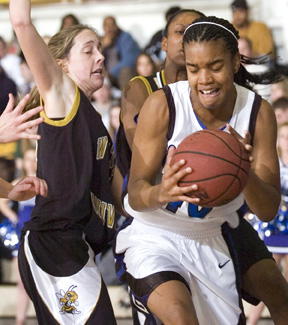 Melanie Oliver controlled the boards at both ends of the court.
In 18 minutes of play she got her second consecutive double-double,
scoring 12 and grabbing 13 rebounds (Photo by Drew Moody)
Freshman Melanie Oliver notched her second consecutive double-double scoring 12 points and grabbing 13 rebounds.
With Saturday's point totals Redick became the second place all-time scorer in WVIAC conference women's basketball history with 2151 career points. She overtook Melissa Hammond's record of 2150. Redick is 109 points shy of Lisa Lee's all time record of 2260.
Head Lady Pioneer coach Steve Harold thinks she has a good chance to overtake Lee's record. The Lady Pioneers have won 81 of the last 91 games at home and are confident going into next week, when they'll take on West Liberty, Concord and Charleston.
Casey Taylor, senior center, nailed 13 points and was second high scorer.
The second-string controlled the game most of the second half and all Lady Pioneer players had points on the board. Glenville faces West Liberty Monday at home. Game time is 7 p.m.