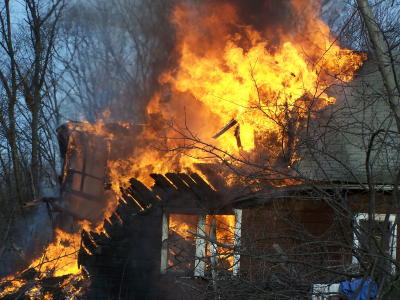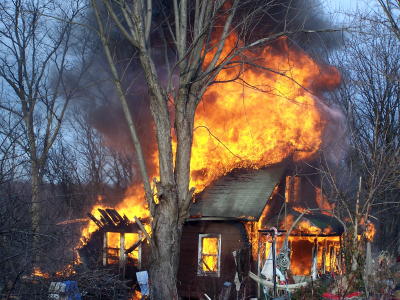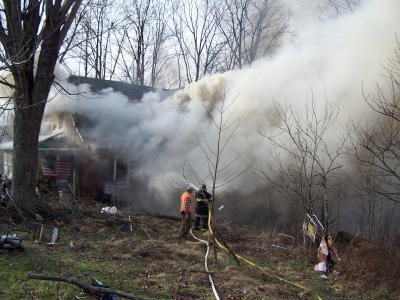 Fire and smoke from the Blair house could be seen as far as Grantsville
A roaring house fire yesterday afternoon, was fueled by lots of contents, said Grantsville firemen, indicating it was not likely enough water could be found to put out such a blaze.
Although firemen were able to knock down the fire early on, contents of the structure started exploding and the fire accelerated. In addition to ammo exploding, there were several large explosions, with at least one aerosol can flying down the highway, passing the heads of emergency workers.
A natural gas line was on fire under the house.
Fortunately, the owner was not home. Officials said well-known resident Charlie Blair was in Parkersburg when the fire broke out. Neighbors said they saw him hitch-hiking down Rt. 5 Wednesday evening.
Charlie was described by neighbors as a "pack rat" who liked to have yard sales.
Grantsville Volunteer Fire Department members shuttled tankers to the Broomstick area that lacks public water and hydrants.
The Smithville VFD was summoned to provide a tanker.
Later in the evening the fire rekindled and Grantsville firemen returned to the scene.
The house was a total loss.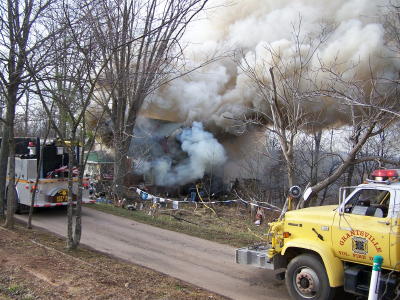 Firemen lost their battle after initially bringing the blaze under control