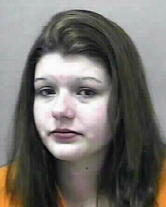 A Clendenin teenager and former Roane County High School student broke into tears Monday and exchanged tearful looks with her mother as a Kanawha County magistrate decided probable cause in charging her with two counts of 1st degree arson.

Tiara Spencer, 18, is charged with setting two fires in Clendenin businesses, one of which destroyed a Dollar General store.

"You are very young, and my heart really goes out to you," Magistrate Carol Fouty told the young woman.

A Kanawha County detective testified that Spencer told federal agents that she set the fires with a green Bic lighter "to settle a drug debt."

Detective Shawn Snuffer said, "She told them that at the Sav-A-Lot she started the fire by using a green Bic lighter to light some paper napkins and at the Dollar General she started the fire with the same lighter by lighting pillows."

Employees of Dollar General and Sav-a-Lot identified the teen from her photograph.

Spencer reportedly confessed that she and another individual started the fires.

The second person was not mentioned during the hearing.

Spencer is lodged in South Central Regional Jail on $500,000 bond since she was arrested December 30.

Zoe Shavers, Spencer's public defender, said the family could only post a $60,000 property bond and asked Fouty to release her to home confinement.

Fouty did reduce the bond to $250,000 surety or $25,000 cash, but if the teen is released she will be placed on home confinement.

"On the one hand, she has confessed to these charges," Fouty said. "I think there is too much of a danger."

Spencer attended Roane County High School last year, but she had been approved for homebound instruction.