By Alvin Engelke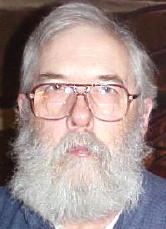 By Alvin Engelke
Bucky Arthur, age 50, was found dead in bed January 2 at the William Sharp Hospital in Weston. The son of R. W. "Spark" & Bessie Headley Arthur of Little Creek, he had spent his adult life working in the oil field. The autopsy said he died of "hardening of the arteries". Burial was in the Cooper cemetery. Sometimes it is very difficult to have any faith at all in government agencies.
It was understood that a "peeping Tom" has been active in the Creston area. It is understood that he will be in for a "big surprise" when he is caught.
A young scofflaw who now lives in Grantsville has been plagued recently with minor traffic citations and is at risk for a trip to Braxton County.
John Nicholais delivered a load of stone to Jimmy E. Shrader, Sr.
Carl Ferrell has been consulting his ear doctor. He has been suffering from what some refer to as "drunken staggers" without the benefit of the drinking.
A gent who would have been called a fat man some years back noted that in the PC culture of today he is described as a "nutritionally over achieving person".
The other evening a Creston couple went to pick up a nephew who was visiting/staying with other family members, etc. An argument started and the descendant of the warriors who fought at Yorktown & in the War of 1812 got thumped and the lady who had relatives who were killed in the Battle of Monmouth also took some licks.
Along about the next night she beat up the warriors' descendant (& his chariot) and got to spend some quality time in Doddridge County.
It was said that Matthew Copen was visiting Jeff McFee.
Bill McFee was among those who attended the Farm Bureau & Forestry meeting with local legislators at the Wood County 4-H grounds.
Grace Keafabber is looking forward to celebrating her 19th birthday on January 18. Kenneth Harris will also celebrate his birthday then.
Brianna Hathaway & Becky Bowman were visiting Amy N. Ferrell & Grace Keafabber. Grace, by the way, is looking for parts for her car that was damaged by one of the DNR's deer.
One of the talk topics in Creston was the big win by the girl's junior varsity in the Wirt vs Calhoun game by 30 points while the varsity fell by two.
The price of local Penn grade crude rose to $52/bbl on Saturday.