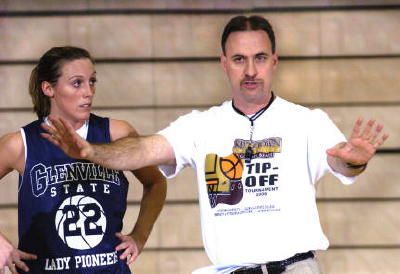 Steve Harold, head coach of Glenville State College's
Lady Pioneers, talks to the team during one of the final
practice sessions before leaving for Hawaii. Three-time
All American senior guard Rachel Redick listens intently
(Photo by Drew Moody)
By Drew Moody
For Hur Herald
Glenville State College's Lady Pioneers basketball team flew to Hawaii Sunday to compete in the Hoop-N-Surf Classic in Honolulu.
Fifteen team members and coaches, with a contingent of fans and family were aboard the flight.
Glenville, nestled deep in the foothills of rural Appalachia, is hardly where you'd expect to find a women's basketball mecca. Yet, the one stoplight county is home to a basketball program that has been among the most competitive and successful teams in the NCAA Div II East Region for several years.
Last season the Lady Pioneers were WVIAC season champions with a 17-1 record and runner-up in the WVIAC tournament. It was their seventh consecutive 20+ win season; the fifth consecutive appearance in the NCAA tournament. Three WVIAC Coach of the Year plaques hang on head coach Steve Harold's office wall. He is native of Glenville, a GSC graduate, and doubles as the school's athletic director.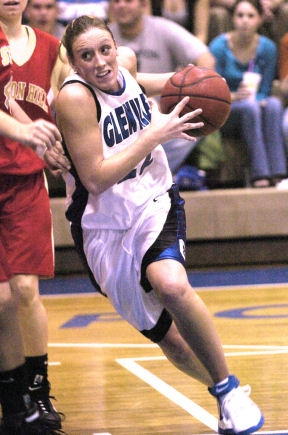 Rachel Redick, Lady Pioneers leading scorer, averaging almost 20 points a game, muscles her way to the basket during a recent home-court battle
(Photo by Drew Moody)
Currently ranked 6th in the nation (NCAA, Div II) with a 6-0 record, the team is led by three-time All American Rachel Redick.
The senior guard is also team captain (for the third year), leading scorer, and an honor student. She was recently named one of the top 16 players in the U.S., and was selected a pre-season All-American.
Returning key players Lauren Strong, Karina Kendrick, Christine DiSabato and Mallory Menendez, along with Redick, have all been honored for their academic achievements.
For the past several years the team's grade point average has averaged 3.5 (out of 4.0). There's certainly no shortage of brain-power. Players of this caliber don't keep making the same mistakes over and over again, Harold said.
Several of the Lady Pioneers appear they could be equally comfortable doubling as runway models. Yet, the women are generally soft spoken, down-to-earth, and share an intense desire to compete and win.
Harold stresses balance - academically, on the court, and in life. Practices are scheduled around classes and test schedules. He tells players as much as he loves basketball they should have no doubt their grades and academic success is the ultimate top priority.
Because of this the Lady Pioneers are known to have practice sessions at odd times of the day or night, sometimes beginning as late as 10 p.m. Excellence is an elusive experience to quantify. The same could be said for any number of other traits including integrity, honor, or being a good parent.
Speaking of, or staking claim to any of these may sound good, but the vocalization does not make it real. To transition from theory to reality certain conditions must be satisfied. Doing so may be one of mankind's perineal challenges.
Whatever it is, Steve Harold appears to have honed a method to reliably facilitate a yearning in each of his players to consistently strive to experience excellence - on and off the court.
The team's coaching staff are as driven to compete and win as the players. Practices are tough and serious. There's no idle talk or chatter. Harold watches practices with the same intensity as their games.
Former Lady Pioneer and All-American, Denae Dobbins, spoke of Harold's leadership style during an interview last spring. Dobbins said the Lady Pioneers coach has an efficient and consistent formula for success.
For instance, the team knows training schedules well in advance, everything is meticulously planned and players don't have to worry about surprises, she said.
Another element that sets the Lady Pioneers' organization apart from many of their peers is the extent they've all become a family. They even celebrate holidays together. Coaches sometimes help with the girls' homework, or proof-read papers. Coaches and their wives have taken sick players home to care for them.
Loyalty runs deep in the organization.
Harold is a thoughtful recruiter who looks beyond athletic ability when assessing players. He's also particular who he works with and is quick to praise the team he's built - even including student worker Heather Phares who oversees graphic design for the Lady Pioneers. He speaks of the assistant coaches skills and ability to communicate effectively with the team.
Harold paid Redick perhaps the highest compliment anyone could give, saying, "I hope my daughters turn out like Rachel Redick."
"As good of a basketball player as she is - she's even a better person."
Redick, a northeastern Pennsylvania native, found Glenville on the internet. "I came down here and I just fell in love with it." Being within driving distance of her parents was an important consideration. "My mom has been my best friend," she said.
Redick's older sister recently accepted employment in Charleston, WV, making her commute to Glenville much easier. The family attends many of the Lady Pioneer games.
Redick will graduate with dual teaching degrees in elementary education and science (5-9). She looks forward to helping children. In particular she's drawn to working with young people who have suffered difficult circumstances at home.
"Some of those kids..." she paused reflecting, "You can tell they don't even get a hug when they get home."
She's excited about the upcoming games in Hawaii, enjoying a mini-vacation afterward and looks forward to the rest of the season. There's just one major drawback as she ponders graduation. "It's going to be really, really hard for me to graduate, and know I can't come back and play for Coach Harold."
Redick loves playing basketball with her teammates. Collectively, they're 'all business' on the court. A quiet and steady leader, Redick sets the pace for the team and coaches say her work ethic is "unmatched."
During games, Harold focuses on strategy, while assistant coaches Dennis Fitzpatrick and John Nicolais make necessary substitutions.
It's a working arrangement nearly unheard of in basketball. Glenville may be the only East Region team where assistant coaches have such responsibilities.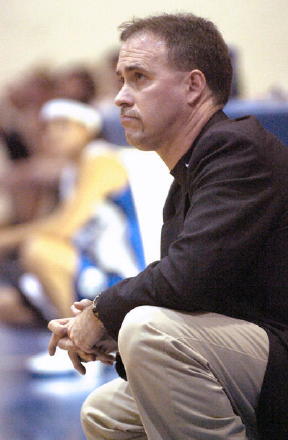 Head Lady Pioneers Coach Steve Harold along the sidelines
during a recent contest. Harold is three-time WVIAC Coach
of the Year and his team is currently ranked 6th in the nation
(Photo by Drew Moody)
Harold and his staff share a high set of standards and vision of excellence for the Lady Pioneers. They trust and respect each other. It may well be the quality and depth of the relationships between everyone involved in the program that provides the solid foundation for the success the Lady Pioneers have consistently experienced.
Fitzpatrick said Harold has the ability analyze 'in real time' subtle weaknesses of the opposing team. He also studies the movements of everyone on the floor, frequently anticipating the 'next move' of opponents.
The Lady Pioneers will have one day to practice before Tuesday's contest against Minnesota State University - Moorhead. Wednesday the team will face 5th ranked Washburn University (Kan).
Washburn suffered an upset this week and may be coming off that loss less confident. Prior to that loss Washburn was ranked the number one NCAA Division II team in the U.S.
Harold says the team will have their hands full with Washburn. "They're the real deal."
"The good part is this team knows how to win."
"We can be inconsistent," Redick added, "but nobody on this team ever gives up."
After Wednesday's big game, the team, coaches and fans plan on enjoying Hawaii for two days prior to returning home. A visit to the Pearl Harbor Memorial is included in the itinerary.
The Lady Pioneers held a variety of fund raisers beginning in early spring to cover expenses for trip. The remainder of those traveling with the team paid their own expenses.
The team has an impressive (and long) list of winning statistics. Among them, in the past eight years The Lady Pioneers have only been defeated twice on their home court. Another less known element, encompassing all women's athletic programs at Glenville State College, is the student retention rate is just shy of 90-percent.