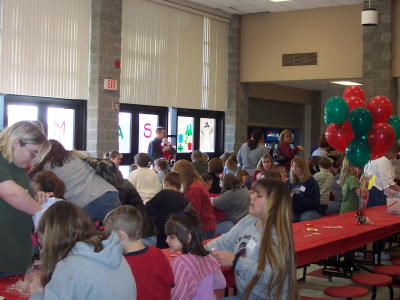 Submitted by Jean Simers
Calhoun Middle-High School was buzzing with excitement this past Saturday. It was the fourth in a series of eight Saturday Fun and Learning Days sponsored by Heads Up, GEAR UP, and the Parent-Educator Resource Center.
Breakfast was served to all participants and then the children unrolled Dance Revolution dance mats while the parents attended Boundaries Training conducted by the Parent-Educator Resource Center.
The children and their parents were reunited to complete five crafts: candy cane ornament, gingerbread ornament, Christmas cookie plate, water globe, and picture frame. Then each child had their picture taken with Santa Clause and received a pencil, candy cane and a $5 McDonald's gift card.
Afterward everyone had a great Christmas dinner catered by the Middle School Booster group consisting of ham, turkey, mashed potatoes, gravy, dressing, green beans, apple pie, pumpkin pie, cake, and punch.
There were 90 students and 54 parents in attendance on Saturday with the following parents winning door prizes: $20 Wal-Mart gift cards from Heads Up: Rebecca Boothe, Louise Fowler, Tina Deweese, and Cathy Rush; Christmas basket from GEAR UP - Roberta Hall and a tool kit from GEAR UP - Marie Jones.
The next Saturday Fun and Learning Day is January 13th beginning at 10 a.m. If you have questions - contact Jean Simers, Heads Up Coordinator at 354-7595.