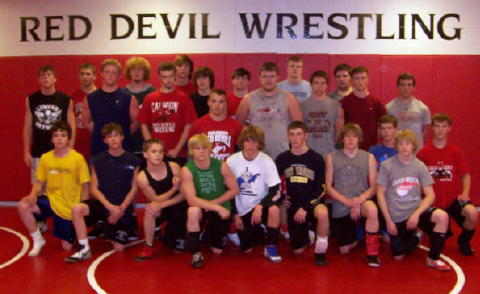 The Calhoun Red Devils wrestling team opened their season on December 9th at the Ritchie County Duals Tournament.
They placed into two separate pools with five teams in each pool. The Red Devils won their pool, defeating Winfield, Lincoln High School, Tyler County, and host Ritchie County.
In the finals, Calhoun lost to Grafton, finishing the day 4-1 and a second place finish.
Individually, Seth Jarvis, Cody Clark, Tyler Bain, and Jeff Goodrich went undefeated during the meet.
Other wrestlers who competed were Austin Moore, Sean Gungle, Will Abicht, Derek Roberts, Aaron Yoak, Tim Sutro, Jeremy Conley, Steve Wagoner, Zac Yeager, and Christian Cottrell.
Calhoun County was forced to wrestle without the services of Eddie Burrows and Caleb Hart because of injuries, but they will be returning to the line-up for the next meet.
Calhoun County will next compete at Point Pleasant the 22nd and 23rd of December before hosting a six team duals meet on the 29th at Calhoun County Middle High School.
Courtesy of Calhoun High School