Two West Virginia activists will be honored today in Washington for calling attention to coal-mining pollution near a school.

The Shafeek Nader Trust for the Community Interest will present West Virginia environmentalists Ed Wiley and Maria Gunnoe with an award for pointing out pollution problems near Marsh Fork Elementary School.

Only a handful of people nationwide receive the award that recognizes integrity and personal risk to take a public stand to advance truth and justice.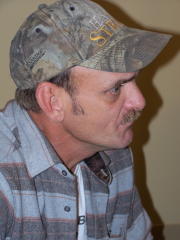 Ed Wiley (left) says "Simple talk cuts through" (Hur Herald Photo)
Forty-nine-year-old Wiley left Charleston on August 2nd to raise awareness about the school's location next door to a coal refuse pond and preparation plant.
He walked over 400 miles to Washington DC to talk to the state's delegation, and build public support to build a new school in a different location.
Ed Wiley is a grandfather who has fought to persuade public officials to build a new school away from a hazardous coal mining operation.
He has demonstrated a keen ability to focus the media on the daily dangers posed by a coal preparation plant and coal slurry impoundment that holds 2.8 billion gallons of toxic sludge, the tank is 225 feet from the school.
Wiley has attracted volunteer college students and others with his honesty, devotion to his cause and plain talk.
Maria Gunnoe is a relentless crusader who has fought to stop the destruction of her Appalachian homeland by the coal barons. She has the clarity to see that at stake are homes, families and livelihoods, a sustainable environment, ancestral lands, and a way of life.
Her firm stand for justice, risking personal safety in the face of retaliations; her leadership in organizing mountain people to use non-violent strategies; and, while staving off peoples' despair, her resilient tenacity in restoring hope one small victory at a time.
The awards will be presented today at 5 p.m. at the Carnegie Institution Building in DC.