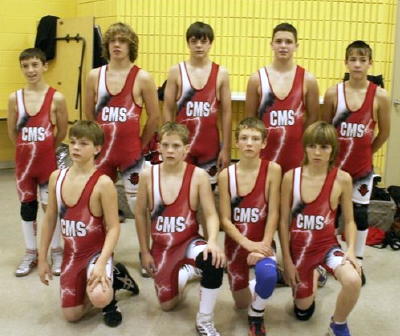 (L-R) front - 7th Grade, Seth Wease, Evan Mace, Jean Blair,
Justin Yoak; back - 8th Grade, Aaron Dawson-Jarvis, Ben
Laughlin, Dillon Mefford, Caden Arnold and Zach Hanshaw
Submitted by Jennifer Miller
The Calhoun Middle School Wrestling Team competed in the Beckley Newspapers Invitational at Independence Middle School in Beckley on Friday December 8th and Saturday December 9th.
Earning Individual undefeated (9-0) first place honors were Dillon Mefford (128#), Ben Laughlin (135#) and Caden Arnold (155#).
Justin Yoak (90#) and Zach Hanshaw (110#) with one loss each are the Red Devil's Second Place finishers in their respective weight classes.
Also competing for Calhoun were Jean Blair (84#), Aaron Dawson-Jarvis (95#), Seth Wease (102#) and Evan Mace (116#).
CMS Wrestling would like to sincerely thank all of our sponsors. Without fan and community support, we would have been unable to purchase singlets and compression shorts. We appreciate each and every donation.
Calhoun Middle Wrestling will be back in competition on Friday and Saturday, December 22 and 23 at the Point Pleasant Olympic Pool in Point Pleasant. Coaches Elvin Hixon, Rex Yoak and Tim Brown invite all Red Devil Fans to attend.