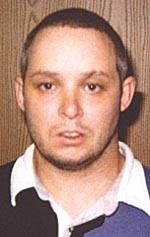 The West Virginia Supreme Court of Appeals declined an appeal last week by Calhoun resident Roger Eric Jones, based on what he claimed were problems with his voluntary confession related to the murder of Oral Jett at Amma, Roane County.

Jones (left) is serving life in prison without the possibility of parole for Jett's brutal murder, in addition to a second life-sentence for the murder of Roane resident John Moorehead.

The court sustained that the correct legal standards were maintained during Jones interrogation.

His appeal was made over whether the trial court was correct in denying Jones' motion to suppress out-of-court statements made after he was arrested, while en route and at the Grantsville State Police Detachment for processing.

The Supreme Court could find no error and affirmed the decision of the circuit court.

The body of Oral Jett was found along a secluded road near Amma in January, 2004, with visible bruises and lacerations to the elderly man's head and face.

Morehead died of blunt force trauma to the head a few days before. Moorehead's body was found in his burning mobile home on Arnoldsburg Road near the Calhoun-Roane line.