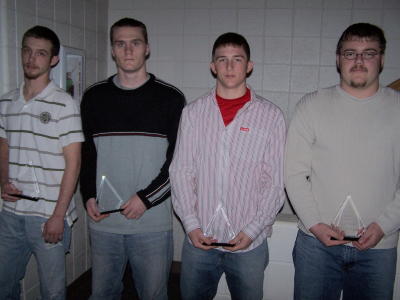 CHS coaches named four players from the 2006 team, captains, based on their performance, leadership, commitment and willingness to help the team (L-R) Eddie Burrows, Steven Wagoner, Jeff Goodrich and Zach Yeager
Calhoun High's football players, their parents and coaches came out for the annual football banquet last night at Calhoun Middle-High School.
With a 6-4 season, head football coach Bryan Sterns said "We didn't make the playoffs, but we got close," after facing five teams that did and beating two of them.
"It was a season of ups and downs, looking for perspective, a lot of growing, perseverance and humility," Sterns said, with lots of first year starters making the line-up and a number of injuries that caused problems.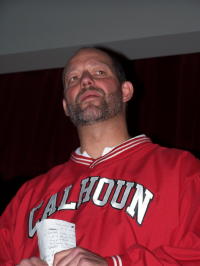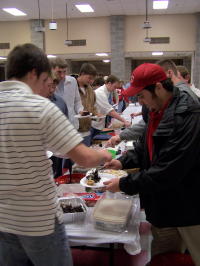 Coach Sterns reflects on the ups and downs of the
2006 season - players enjoy bountiful dessert table
"We learned some lessons, but most of all our young men keep striving to do better," he said. "I love Calhoun football, and what the players bring to the game," expressing appreciation for their hard work and the support of parents and the community.
Coach Sterns and Coach Mike Stump recognized the 2007 graduating seniors, speaking about their individual accomplishments, Caleb Ball, J. J. Bremar, Eddie Burrows, Cody Cottrell, Jake Wagoner, Steven Wagoner and Matt Whipkey.
After enjoying a large dessert table, those in attendance viewed Jim Sullivan's 2006 video of football highlights, which is now available from Sullivan.