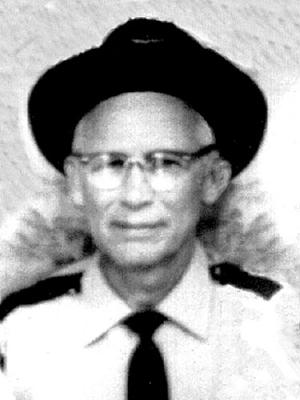 Thirty years after fatal shooting, Sheriff Park
Richards will receive some special recognition
Thirty years ago Saturday (November 18) Calhoun Sheriff Park Richards was killed in the line of duty by a gunshot fired by a mentally disturbed man.
The official Sheriff Park D. Richards Highway dedication is today, according to Greg Collins, Calhoun native and great-nephew of Richards. Collins is currently a deputy Sheriff in Washington County, Ohio.
Route 16 from Grantsville to the Ritchie County line will be dedicated in honor of the fallen sheriff.
The ceremony will take place at the Calhoun courthouse at 2 p.m.
"We are extending a special invitation to relatives and friends of the late Sheriff," said Collins.
Delegate Bill Stemple sponsored the highway naming legislation, said Collins.
"All Calhoun County officials are cordially invited to attend," Collins said.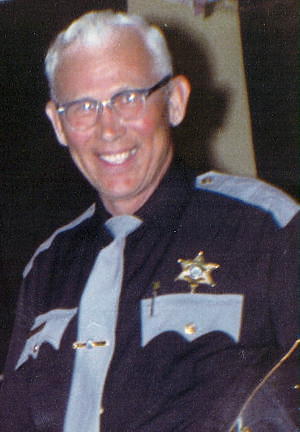 Photo courtesy of Greg Collins
RESOLUTION
Providing for naming the section of West Virginia Route 16 from the intersection of West Virginia Route 16 and West Virginia Route 5, North to the Ritchie County line the Sheriff Park D. Richards Memorial Highway.
Whereas, Park D. Richards served honorably as sheriff of Calhoun County until his untimely death at the age of sixty-two, during the line of duty in 1976;
Whereas, on November 18, 1976, Calhoun County Sheriff Park D. Richards died in the line of duty while he and State Trooper C.W. "Chuck" McDonald were serving a warrant on a dangerous and disturbed individual;
Whereas, when Sheriff Richards and Trooper McDonald announced their intent, the individual fired a high powered rifle, striking Sheriff Richards in the throat; and whereas, Sheriff Richards died at the scene of the crime shortly after being shot;
Whereas, Sheriff Richards is memorialized in a plaque memorial which hangs on one of the pillars at the Calhoun County Courthouse;
Whereas, Sheriff Richards is memorialized as one of the names which appears on "Fallen Partner," the State of West Virginia's Statue Memorial to West Virginia Police Officers killed in the line of duty, located outside the Cultural Center at the Capitol Complex in Charleston;
Whereas, there is an online memorial to Sheriff Richards, hosted by The Officer Down Memorial Page, Inc., where he is honored with the 17,344 United states police officers who have died in the country to date; and whereas, those who knew Richards can leave remembrances of him at www.odmp.org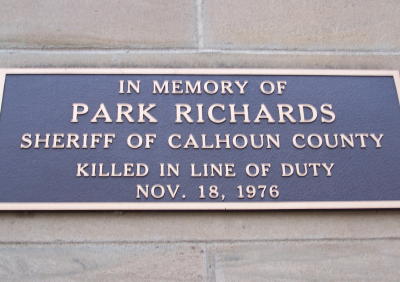 There are many relatives and acquaintances of Richards still living in Calhoun, and many remember the tragic day.
A plaque in his honor hangs on the front of the Calhoun courthouse.
Here is a newspaper account from November 18, 1976, submitted by Detective Greg Collins, Parkersburg Police Department, great nephew of Sheriff Park Richards.
STATE POLICE INVESTIGATING DOUBLE SHOOTING IN CALHOUN
State Police are continuing their investigation into the shooting deaths of the Calhoun County Sheriff, Park D. Richards, 62, and the man who he was approaching with a warrant on Thursday.
Richards was shot by John Fitzgerald while he was trying to serve him with a lunacy warrant at Fitzgerald's "cave-like" dwelling off Rush Run in Calhoun County, according to State Police. Fitzgerald was then fatally shot by return fire from Richards and Trooper C. W. McDonald who had accompanied Richards to the scene.
State Police and medical examiners were inspecting the bodies of the two men this morning to determine the exact cause of their deaths. Richards and McDonald went to Fitzgerald's dwelling to serve him with a lunacy warrant after a neighbor had registered a complaint.
The complaint was filed by C. M. Smith, who lives in a trailer across the road from Fitzgerald's property. Smith said that Fitzgerald had threatened to kill him, and that he often complained about imagined trespassers on his land. Smith said that Fitzgerald had been living under a rock with about 50 chickens for two months after a barn, in which he had been living, burned down.
Sheriff Richards and Trooper McDonald approached the dwelling at about 11:30 a.m. They walked several hundred yards from the road before reaching the cave. They found Fitzgerald cooking over an open fire with a 6.5 mm rifle nearby.
Upon seeing the two men, Fitzgerald began to walk away, even though the Trooper called out to him and told him the purpose of the visit. The two law officers intended to take the man to Spencer State Hospital for tests of his mental competency.
When the officers walked toward him, Fitzgerald turned and fired at them. The bullet struck Richards in the throat, police said. Richards and McDonald then returned the fire, killing Fitzgerald instantly, according to police. Richards fired one or two shots before falling to the ground, police said. He died a few minutes later.
The neighbor who had registered the complaint said that he warned both lawmen that Fitzgerald was dangerous and kept a gun at his side constantly.
Smith, the neighbor, said that Fitzgerald, a former resident of Washington, D. C., moved to the area a few years ago. About two years ago, a two story house on the property burned down, at which time the man moved into the barn.
Richards was re-elected to his second term as sheriff on November 2. The bodies of both men were taken to Stump Funeral Home.