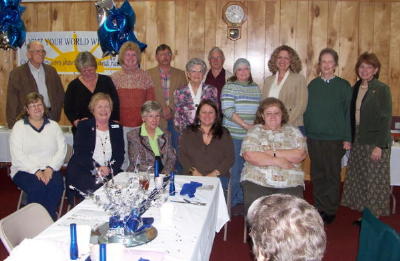 Cancer Survivors honored
Submitted by Barb McKown
The Women First Program hosted the 2nd Annual All-Cancer Survivor Dinner on November 2 at the Pleasant Hill United Methodist Church.
The theme for the dinner was "Light Your World with Hope" with seventeen cancer survivors honored. The survivors enjoyed a baked steak and turkey dinner catered by the Pleasant Hill CEOS Club.
Helen Morris was the guest speaker for the evening, sharing her cancer journey.
Following the presentation of certificates, the survivors were treated to a slide show and vocal performance by Lydia Richards.
Each survivor was given a flashlight with the message that they are the light of hope for those around them.
A flower arrangement donated by the daughters of Coleman and Katheryn Burrows was presented to Patty Eisley for being the longest survivor at 23 years.
The 2nd Annual All-Cancer Survivor Dinner was sponsored by the Women First Program.
The Program is made up of representatives from Minnie Hamilton Health Care Center, WV Breast and Cervical Cancer Screening Program, American Cancer Society, Red Hat Society, Rural Health Education Center, Pleasant Hill CEOS and community volunteers.
The Women First Program received a Rural Health grant from the American Cancer Society to sponsor the dinner. For more information on the Women First Program or to become a community volunteer, please contact Barb McKown at 354-9244.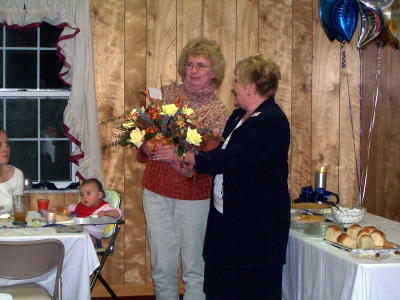 Patty Eisley receives flowers from ACS representative, Sally Davis