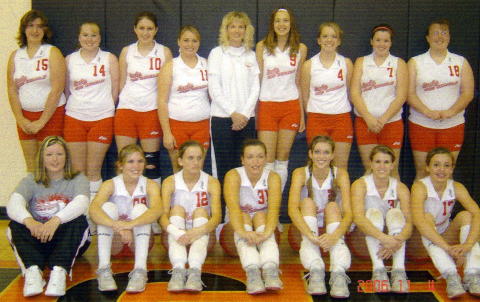 Front (L to R) Assistant Coach Brandi Richards, Kayla Hixon, Melissa Jarvis, Dani Church, Courtney McKown, Caytee Prusack, Tessa Batten; Back (L to R) Larissa Clegg, Kelsey Collins, Sarah Postalwait, Amy Ashley, Head Coach Angie Hersman, Arla Lane, Kayla Roberts, Joceyln Cunningham and Hannah Wilson
It's a first for Calhoun High School.
The volleyball team is headed to the state tournament, playing at the Charleston Civic Center this Friday at 1:30 p.m. against Greater Beckley.
"We're really proud of this team. They've got what it takes," said coach Angie Hersman.
Coach Hersman asks that you show support for the Calhoun Lady Red Devil Volleyball on making it to the States for the first time in school history for any girls team. The team will be leaving Calhoun High School on a charter bus on Thursday afternoon after the school thooze approximately 3 p.m. and head back toward town for a drive thru, please show your support for these girls by decorating your windows and waving the girls on to States!
For fan information and directions to the Charleston Civic Center see fans  For a schedule of state tournament brackets see brackets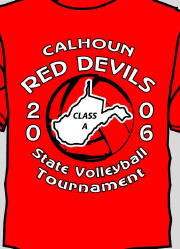 Calhoun County Athletic Boosters will be selling T-shirts to commemorate the event. The shirts will sell for $6 each in the commons area at CM-HS on November 8th from 4 to 5:30 p.m. and November 9th from 11 a.m. to 1 p.m. and 4 to 5:30 p.m.
The Lady Red Devils knocked off the Region 1 champs Paden City Saturday, November 4 at Wirt County High School.
The Calhoun girls took Paden City in three games with scores of: 25-17, 25-21, 25-21.
Calhoun Scorers: Dani Church 11 (64 sets, 2 aces, 2 kills, 4 blocks), Courtney McKown 14 (5 aces, 15 kills, 6 blocks), Tessa Batten 19 ( 6 aces, 2 kills, 1 block), Caytee Prusack 9 (2 aces, 4 kills, 2 blocks), Kayla Hixon 15 (2 aces), Melissa Jarvis 7.