By Alvin Engelke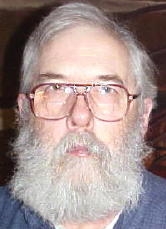 By Alvin Engelke
Rev. Paul Williams filled his regular appointment at the Burning Springs M. E. church.
Joe Pennington threw his back out of place and is now forced to crawl around.
Mrs. Whistle McIntyre fetched Wilma Starcher a tasty mincemeat pie just like her grandmother used to make.
Charles White was calling on former Creston mayor Oris Meadows.
The Creston Community Neighborhood Watch meeting will be held Monday, November 13 at 7 P. M. at the community building.
One of the DNR's deer was found deceased near the community building outhouse but, it seems they do not claim the deceased ones that have to be removed for health or aesthetic reasons.
Local residents have been keeping some tabs on one of the big kitty cats that the DNR said they didn't turn loose. It is one of the long tailed kitty cats that came from another part of the country.
John Kerry, a card-carrying member of the eastern effete elite, let his true colors come through the other day showing absolute contempt for all who are or who have served in America's military. Someone asked, "Does he think that the Swiss Navy or maybe the Cherry River Navy will protect him from those who would kill all in America?" The correct term is clueless. A certain female who also loathes the military is now gloating.
A number of local residents attended the Halloween party in Elizabeth.
The local columnist consulted both his physician and his chiropractor as a result of complications from the USDA's "Asiatic beetles".
Calhoun County Commissioner Bob Weaver was attending to business in Creston and stocked up on tasty items at the Creston auction. At the December auction Bobby Ray will have both pepper and regular Amish bacon. Orders should be called in to Alvin Engelke at 275-3578 fairly soon.
Matthew Copen and Glenna Westfall were among those calling on Mr. & Mrs. Carl Ferrell & daughter.
There has been lots of traffic on local roads as folks get ready for firearms deer season.
A 9-month-old male Boston Terrier is lost from the Little Creek area. The comely young owner is very sad and would hope that a "dog found" call would be directed to 354-0183.
Last week a black pot bellied pig was found on Little Creek but the pig had assumed, for unknown reasons, ambient temperature prior to being discovered.
Dominion which is now the owner of what was known as Hope Natural Gas Company announced that they were going to sell off most of their exploration & production business which is run mainly by a Houston (formerly a New Orleans) subsidiary which has many wells in W. Va. Dominion said they were going to keep their "low risk" Appalachian basin stuff although some wells are being sold in Braxton, Upshur, Randolph & other counties. It would appear that something over 4000 wells would be on the market as well as over a trillion cubic feet of gas reserves. Some years back the "regular" Hope employees didn't much care for those who worked in what was then known as the "D" company, now the exploration and development group.
The price of local Penn grade crude rose $1.25/bbl Saturday to $55/bbl. The price of mountain high test was $1.33/gallon with propane fetching 95.4 cents/gallon. Some natural gas may only fetch $4.33/MCF while much local production is shut in because, it is said, storage fields are full and there has been a lot of new drilling. Craig Station at Smithville is said to be running at capacity.
Work is progressing on the big new oil tank at the old Eureka Station at Brooksville. Obviously, someone is intent on producing far more crude oil that has been produced locally in decades. Not so long back Ohio Oil Gathering built another big tank in Ritchie County.
Debra Corra and Mrs. Cecil Starcher of Rose Hill were attending to business in Creston over the weekend.
Frank Carper from Arthurdale was visiting family in Palestine and attending to business in Creston.
Lena, Loretta & Florence Bishop, Lisa Bibbee, Bernard Nicholas, Rose Bush and Cathy Rush were all attending to business in Creston.
Keith Hall, who sustained a head injury when he fell from his four-wheeler near the Jerry Duskey residence, is now some better and has been transferred to a special facility in Marietta.
It was reported that Buckeye Oil will participate in the wells that Artex is going to drill in Wirt County. One will be in downtown Dooleyville while another will be not too far from the former Marvin E. Smith trailer park at the head of Deaver's Fork and another on Standing Stone. It is understood that Artex is facing a year-end deadline with no extensions possible on a lease deal.
A number of residents have been working together, using a lease form prepared by retired Circuit Judge George M. Scott, in dealing with leasing oil and gas and not being ripped off. One can either get a fair shake or be ripped off again for another century or so as the Rockefeller family did when they came around back around 1900 "offering good deals". Some of "the new companies" do not like to give out free gas to landowners.