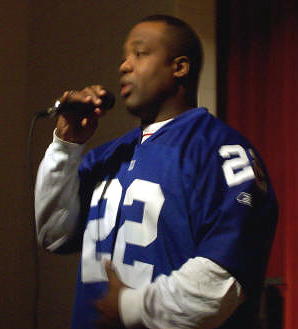 Lee Rouson, a former professional football player with the New York Giants, spoke to CHS students yesterday. His message to students was "make choices that reflect who you are".
Rouson stressed knowing who you are, not to worry about the past, and to value education.
He is a member of the Sports World Team, an organization that reaches out to the youth in America. He is from Greensboro, North Carolina. He was a student-athlete at Page High School and the University of Colorado. He was the 4th all-time leading rusher at Colorado from 1980-84.
Rouson was drafted by the NY Giants and Coach Bill Parcells and played for five years, winning two Super Bowl Championship rings.
Unfortunately his professional football career was brought to an end as a result of an ankle injury. His final year in the NFL was as a starting full back and tight end with the Cleveland Browns.
Courtesy of Calhoun High School