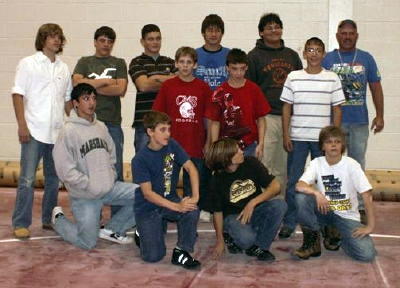 Front (L-R) Dillon Richards, Justin Yoak, and Seth Wease; Middle (L-R) Darringer Fluharty, Evan Mace, Aaron Dawson-Jarvis, and Zachary Hanshaw; Back (L-R) Ben Laughlin, Dillon Mefford, Caden Arnold, Caleb Richards, Graham Knight and Coach Elvin Hixon. (not pictured Cory Metz)
Submitted by Jennifer Miller
The Calhoun Middle School Wrestling Team is accepting sponsors for the 2006-2007 CMS Wrestling Board, displayed at CM-HS.
Sponsorships are $150 for a full weight class or $50 for 1/3 weight class. Your personal or business name will be advertised for 1 year.
To make a donation or buy an advertisement, please call Coach Elvin Hixon 354-9491, Irona Yeager 354-7024, Sharon Laughlin 655-8925, Jennifer Miller 364-4435 or Shelly Mace 655-8245.
All monies earned will be used to purchase new singlets, compression briefs, t-shirts and shorts for the team.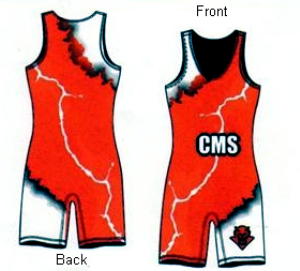 New wrestling singlet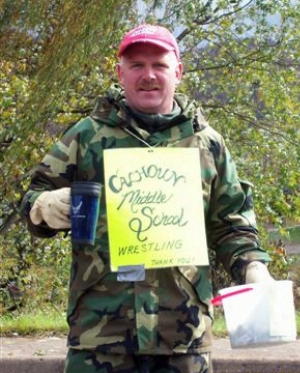 The CMS Wrestling team would like to offer a sincere "Thank you" to Coach Elvin for his efforts this past Saturday at the Road Block. Coach Hixon (above) all alone, braved wind, rain, and cool temperatures in an effort to raise funds for our new uniforms. We appreciate you!