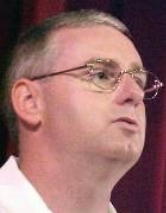 Lieutenant Commander Roy John Virden, a former Calhouner and son of Catherine and the late Roy J. Virden, stood front and center Friday, October 27, in the Navy Information Operations Command located at Norfolk, Virginia as his retirement ceremony unfolded to a packed SRO crowd.

Master of Ceremonies for the event was his brother, HTC Michael Virden.

There were speeches by Captains, sharing by his brothers, and awards from the President of the United States, the Secretary of Defense, Secretary of the Navy, all the way down to Governor Manchin.

LCDR Virden ended a 27 year career in the United States Navy. He is a graduate of Miami University of Ohio, the Naval Postgraduate School and the Naval War College. He was a career Naval Cryptologist with 11 years of enlisted service and 16 years as an officer.

He enlisted in the Unites States Navy on November 28, 1979. Early tours dispatched him to the British Indian Ocean Territory and Edzell Scotland before returning to Sugar Grove, West Virginia. Following his study at Miami University he was commissioned as an Ensign and tours in Japan, Virginia, California, Maryland, Rhode Island and Norfolk followed.

The closing of the program stated: "For twenty-seven years, this sailor stood the watch...Today we are here to say, Shipmate...the watch stands relieved. Relieved by those you have led, guided and trained. Lieutenant Commander Virden you stand relieved...We have the watch."

With that there was a salute and LCDR Virden requested one last time permission to go ashore. The Captain granted permission, the Boatswain piped the side and the bell rang as the Shipmate went ashore.

He walked a red carpet lined with sailors in their whitest whites and deepest blues to be met by his wife, son and mother.

Just before this even took place there had been a Commissioning Ceremony for Robert David Virden from Chief Petty Officer to the rank of Ensign.

Rob enlisted on December 28, 1992 and also became a Cryptologic Technician. He was the first to do and accomplish many things in the field, writing training manuals and other duties for those who were to follow him.

His tours have taken him to Hawaii, Navy Aircrewman School earning his wings with over 1500 hours. Ensign Virden will receive training next month in Florida and then set sail for Japan for a three year tour.

The passing of the colors, the Silver Dollar Salute and the pinning of the Ensign bars were most impressive.

Michael J. Virden, the third of the Virden boys serving in the United States Navy was the Master of Ceremonies for both events.

The Virden Boys are three Calhouners that have honored their families, their nation and their home place.

The Rev. James W. Pearson, former pastor of Grantsville's First Baptist Church, provided the invocation and benediction for both events.