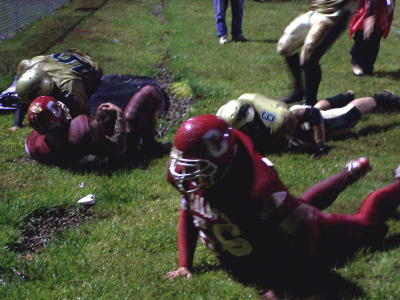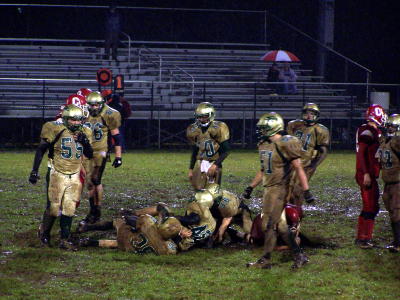 By Gaylen Duskey
realfang@citlink.net
On a night that was perfect for ducks it was a good thing Calhoun was playing Eagles.
Not that the Eagles were easy but Calhoun was able to score twice in the last 2:49 to rally past Braxton County Friday night keepings its playoff hopes alive.
The Red Devils were able to style their rally following a scary injury to junior running back Jeff Goodrich, who was hauled off the field and taken to Minnie Hamilton Health Care Center for a precautionary check.
Calhoun's rally was set up by a 54-yard booming punt by backup punter Zack Yeager left the ball inside Braxton's 15-yard line. Yeager was forced to punt because of the injury to Goodrich.
Following the punt Braxton fumbled the ball and Eddie Burrows recovered, setting up the go-ahead touchdown.
The Red Devils used the running game to get the ball to the seven from where Matt Houchin hit tight end Chance Hardway in the end zone on a play action pass, making the score 8-6.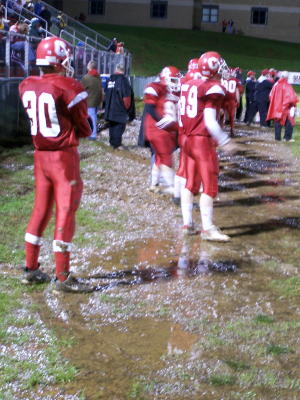 Calhoun got the ball back on another Braxton fumble seconds later - one of five by the Eagles - setting up the final score of the game. This time the Devils drove the ball on the ground and scored on Houchin's one-yard run with 1:12 remaining making the score 14-6.
Braxton got the ball back and thanks to three 15-yard penalties against the Red Devils moved the ball deep into Calhoun territory before having the drive end on downs with less than: 30 to play.
Calhoun had taken an early 2-0 lead in the second quarter when Yeager tackled the Braxton punter in the end zone after the punter boomed his kick off the broadside of his blocker.
That 2-0 lead held up until the 6:44 mark when the Eagles scored on a two-yard dive by Alex Valdivieso.
Goodrich who had 101 yards on 18 carries led Calhoun. Eddie Burrows had 10 carries for 85 yards to back Goodrich.
Normally pass happy Calhoun was hampered by the rain and wind and threw only five times, completing two for 12 yards and a touchdown.
With the win the Red Devils go to 6-3 heading into the season finale at St. Marys. With a win over St. Marys Calhoun would be assured a playoff spot.
With a loss Calhoun could make the playoffs but it would need some help from other teams to get in.
Braxton is now 0-9 and will play Grafton.