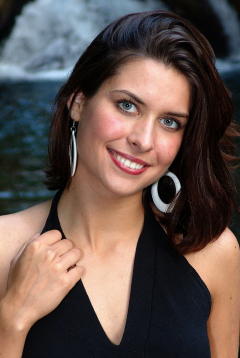 Who would have thought that a home town pageant would lead to being featured in Supermodel Unlimited Magazine for Holiday 2006.
That's exactly what happened for Hanna Law.
Hanna was crowned Queen Flora XLIV in May, 2006 at the annual Queen Flora Pageant sponsored by the Calhoun County Wood Festival, and went on to place as first runner-up in the Miss Teen West Virginia Pageant.
Hanna, 17 year old daughter of Danny and Alicia Law of Five Forks received a photo shoot with photographer Dean Stobbe and from that a modeling representation with the Patrick Talent Agency.
Although the magazine is not on shelves yet, notice of Ms. Law's honor was received by the Wood Festival Committee.
"Please join the Wood Festival Committee in congratulating Hanna Law for her honor and for representing the festival and Calhoun County so beautifully," said Jackie Blankenship of the Wood Festival committee.
SUPERMODELS UNLIMITED, 2006 Holiday Edition
Rising Stars
Patrick Talent Agency
In the spring of 2006, 5'9" beauty Hanna Law won her first pageant. She then competed for a popular local title and became West Virginia's Queen Flora.
The next two months brought her the title of Miss Teen West Virginia first runner-up , and modeling representation with Patrick Talent Agency.
Intelligent and athletic, Hanna has used her publicity to travel regionally to promote healthy lifestyles for West Virginia's children. She has participated an and organized many community service projects, played a variety of sports, and is a candidate for Class Valedictorian 2007.
She thanks her pageant director Kim Parrish, her photographer Dean Stobbe, and her agent Andrea Patrick Forte for her opportunities that will surely leave an impression on the modeling industry.
This stunning "Rising Star" just may be West Virginia's best kept secret.