After weeks of fund raising, the new wrestling mats were rolled out ...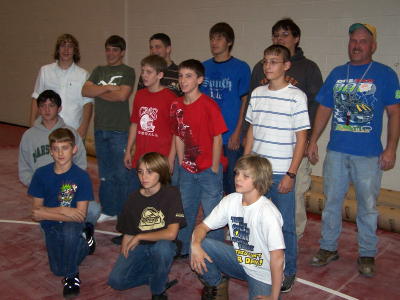 ... by Middle High School wrestlers, who will be starting the season soon
The new wrestling mats at Calhoun Middle-High School were rolled-out yesterday afternoon by Calhoun Middle School wrestlers for use during the season.
The mats, one each for Calhoun High and Middle School, cost about $15,000, with nearly all the money coming from fundraisers, according to Irona Yeager, President of the Middle School Boosters.
Middle School Boosters paid for the Middle School mat, and also assisted with funding the high school mat.
The Board of Education provided about $2,000 and "other volunteers came up with about $1,000 to fund the project," said Yeager.
"Mostly it was a dollar here and a dollar there from selling hot dogs and other items that made it work," she said, "The community support has been great."