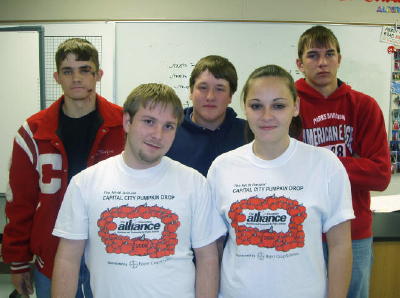 Front (L-R) Shelby Davis and Tosh Shock
Back (L-R) Lucas Morford, Mark Butler and Cody Cottrell
Calhoun High Schools physics students traveled to Charleston to participate in the 9th annual Pumpkin Drop competition.
The "Great Pumpkin Drop" involves building an apparatus that will keep a pumpkin intact when dropped from a four story building, in this case the State Capitol.
The winners are determined by the pumpkin surviving and closeness to the center of the target.
Calhoun's pumpkin apparatus was "Tambree."
The competition had 140 entries from all over the state.
With 140 pumpkins dropped, only 29 survived and Calhoun placed 9th.
Tosh Shock, Lucas Morford, Cody Cottrell, Mark Butler and Shelby Davis had the 9th place winner.
Their apparatus landed 3 feet 10 inches from the center target.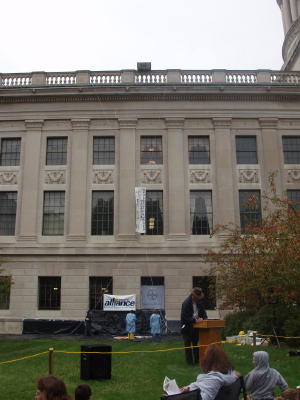 Courtesy of Calhoun High School