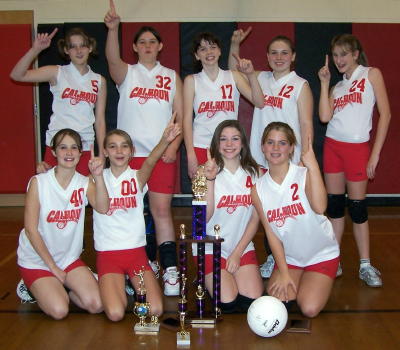 Tournament team members pictured left to right
Front - Jordan Mace, Amber Wilford, Savannah Church
and Ashley Houchin; Back - Samantha Fulks, Rochelle
Gerwig, Karissa Reip, Michelle Hall, and Katleyn Collin
By Kelley Houchin
The CMS Volleyball team played in the Central West Virginia Athletic Conference Tournament held at Braxton County Middle School in Flatwoods on Saturday, October 21st.
The CMS team entered the conference tournament undefeated in regular season conference play with a 12-1 record and ranked as the number one tournament seed. Calhoun's only loss came from non-conference foe Gilmer County.
Calhoun swept Walton 25-7 and 25-10 in their first match of the tournament. In the second round of the tournament Calhoun faced the Lady Mustangs of Clay County Middle School. Calhoun had won both regular season matches with Clay two games to one. However, Clay was able to sweep the tournament match from Calhoun in two extremely close games 23-25 and 24-26. The loss dropped Calhoun to the loser's bracket where they defeated Spencer 25-11 and 25-15. The win over Spencer placed Calhoun back into the championship round, again, facing Clay.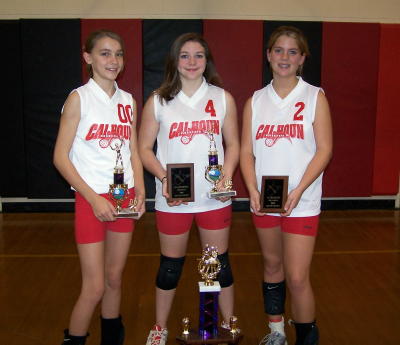 All Conference-All Tournament players
(L-R) Amber Wilford, Savannah Church, Ashley Houchin
Calhoun needed to defeat Clay in two straight matches to claim the championship trophy. The lady Red Devils responded to the challenge by besting Clay 25-12 and 25-9 to win the first match. Calhoun claimed the first game of the second match 25-8. Calhoun held a sizable lead over Clay in the second game, 21-13, before Clay battled back to within 3 points of Calhoun. With Calhoun at match point 24-21, Calhoun's defense gave up one more point before Calhoun claimed game, match and championship victory 25-22.
Calhoun was led in tournament play by Ashley Houchin with 37 points, 8 aces. Rochelle Gerwig added 35 points, 10 aces; Savannah Church 35 points, 9 aces; Amber Wilford 21 points, 6 aces; Jordan Mace 15 points, 2 aces; Michelle Hall 9 points, 7 aces; and Katelyn Collins 8 points, 1 ace. Savannah Church was 55/57 setting, Amber Wilford was 34/35 setting, Ashley Houchin was 2/2 setting and Karissa Reip was 1/1. From the attack line Michelle Hall was 33/44 with 3 kills; Ashley Houchin was 23/24 with 4 kills; Karissa Reip was 9/13 with 1 kill; Jordan Mace was 10/11 with 3 kills. Amber Wilford was 9/9 and Savannah Church was 11/11 with 10 kills.
Ashley Houchin was named to the CWVAC All Conference Volleyball team for the second consecutive year. Also named to the CWVAC All Conference Team from Calhoun was Savannah Church. All Tournament Team selections for Calhoun for the second consecutive year were Savannah Church and Amber Wilford.
Calhoun will complete their season on Wednesday, October 25 at Gilmer County when the Lady Red Devils attempt to avenge their earlier season loss to the Lady Titans. "B" team play begins at 6 p.m.