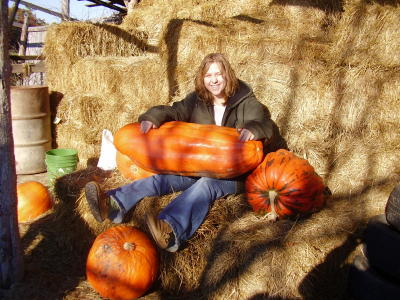 Submitted by Ed Tingler
Miss Berlisha Brannon is this year's Pumpkin Queen, again.
She entered her pumpkins in the Molasses Festival this year taking first and second place. She also won second and third place at the West Virginia Black Walnut Festival.
Berlisha's potatoes took first and second place.
We ask her how she grew those big pumpkins and taters, she allowed it was a team effort.
"I got Jamie Wagoner to come up with a secret formula to help grow big pumpkins, just like Russ Ferrell's taters," she said.
She used Ferrell's fantastic fertilizer and Jamie's sure fire pumpkin pill.
Berlisha says next year she is gonna have the biggest pumpkin in the state.
She has Jamie hard at work trying to improve the formula and Russ Ferrell is taking orders for his "Ferrell's Fantastic Fertilizer."
She would like to thank all that helped with the project.
Berlisha is the daughter of Carl and Judy Brannon of Millstone.