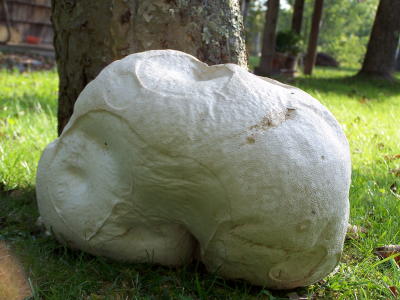 They're calling it a "giant mushroom," but it likely has another identity. Brenda Sue Ward of Pleasant Hill plucked the monster near her yard over the weekend, saying it was about the size of two basketballs. Neighbor Paul Whytsell said "I've never seen any mushroom kind of thing like it in my 73 years." Whytsell said it weighs about four pounds. Readers, what is this monster?
Some Responses
- Diana Austin of Misty Mt. Farm says "This looks like a giant puffball mushroom. If you get them before they have spores inside, they are mighty good eating. Just cut them open to be sure the inside is solid white flesh with so signs of gill (warning about a poisonous variety in immature stage that resembles a puffball). They usually grow on lawns or short pasture in September and October and grown almost overnight after rain. I have never seen one this large."
- Bill Bailey says "It' a Puffball. A big one but, nevertheless, a puffball.
- Diann Clothier of Sycamore says "It's a puffball mushroom. Some people eat them - peal the outer skin off (or it will smell like gym socks when it cooks!), and make thick slices. Sauté it in butter or oil, put some cheese on to melt, and it's like a giant grilled cheese."
- Sue Cosgrove wrote "I do believe that the picture is of a Giant Puffball Mushroom. The largest I've picked and eaten was only the size of ONE basketball. They are mild-tasting, and can be frozen whole.
Use only young, fresh specimens. With a clean paint or a pastry brush, gently brush away all soil or debris on the mushroom. Slice completely through the center of the mushroom. If the inside flesh is all of the same texture and color (evenly white) and there is no outline or shape of an immature mushroom in the interior, you're in for some fine dining!
If the color has darkened on the inside, the puffball is older and beginning the process of making spores and eating it is not recommended. Puffballs can be frozen whole as is, or sliced and lightly sautéed, then frozen. Frozen puffballs slice very evenly, making it easy to dip and roll in crumbs and then fry."
- Alan Brandt of Spencer says "If it is white all the way through, it is a puff ball mushroom. They are excellent eating, delicious sautéed or raw. If the meat has started to turn brown it is to late to eat.
- Jim suggests "The mushroom looking thing looks like a variation of what we used to call chicken mushroom....growing at the base of usually oak trees... we have cut them into strips and fried them and it is alot like white meat chicken... (Caution eating fungi)