Submitted by Jean Simers

The Calhoun County High School class of 1966 gathered for their 40th reunion this past weekend. The group attended the homecoming game between Calhoun and South Harrison Friday evening.

On Saturday, the group met at the Five Forks Community Church for a luncheon.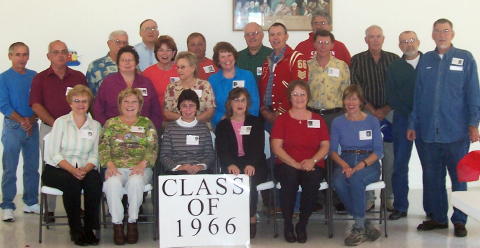 Front-Mary Sue Siers Calvert, Sandy Kimble Parsons, Janet Sturms Cunningham, Nancy Roberts Yoak, Genieva Tingler Glover, and Louise Cox Rose; Middle-Linda McEndree Braden, Jean Muncy Simers, Cynthia Mace Shaffer, Vivian Freed Dye, Bob Yoak and David Crawford; Back-Gary (Pete) Burrows, Jim Bland, Gail Siers, Bill Gherke, Larry Harris, Jim Bland, Gaylen Duskey, Bernard Blair, Roger Yoak and Roger Richards
Additional attendees were: Linda Blair, Jeannie Bland, Sherry Burrows, Rodney Bush, Denzil Dye, Sharon Gherke, Terry Harris, Jim Kimble, Ron Rose, Danny Schartiger, Barb Siers, Burl Simers, Cynthia Simers, Bailey Smith, Homer Wilson, Bev Yoak and Cheryl Yoak.
The group enjoyed a DVD presentation of pictures from their high school years along with current pictures of classmates and family. Each classmate also received a copy of the DVD and a CD of 60s music along with a memory book.