By Bob Weaver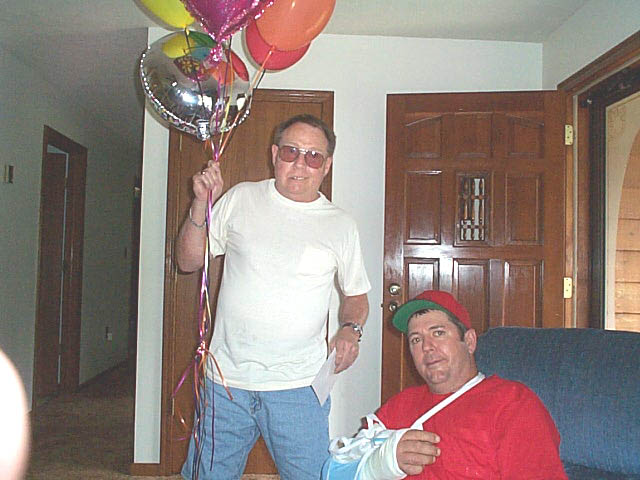 Jack Marks receives balloons from Bob McCartney
We ask Jack Marks if he had dreams of flying as a youth. He said "Not that far. The landing was too abrupt." Jack, part-owner of M & A Well Service at Millstone, fell about twenty feet last Tuesday morning from a pole building he was helping construct.
We talked about Charles "Tap" Kerby's flying exercises in the Village of Hur back in the fifties. Tap's flying machine landed in the holler, with the pilot suffering only minor injuries. (SEE earlier story in Hur Herald - People, Humor and History)
Marks miraculously escaped serious injury, crushing his elbow. His wife Janet, said the trauma team kept coming back at Charleston General Hospital trying to "find some other injuries."
Jack said the secret of a successful fall is a "big belly." Janet differed with his assessment, saying "Jack really crunched his guardian angel."
"I think I'm using up my nine lives, though," remembering being shocked by two lightning strikes, falling through a ceiling last year and numerous near misses on drilling rigs. "I should take better care of myself," he said.
When asked what he was thinking when he fell from the top of the building, he said all I could think was "This is gonna hurt."
Jack was released from the hospital yesterday, and is anxiously waiting to return to action.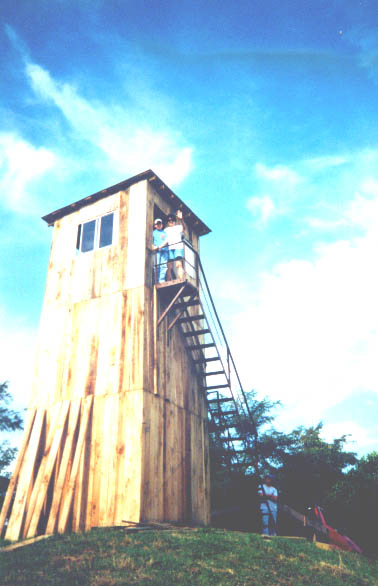 Jack says he is planning his next fall from his hunting cabin at the head of Rush Run