Suspect in police chase apprehended

By David Hedges
Publisher times Record-Roane County Reporter

A man wanted since he eluded authorities in Roane County more than a month ago was arrested Tuesday in Nicholas County.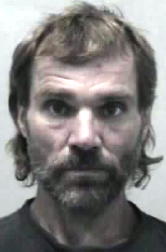 Steve Porter Cogar, 50, (pictured left) was arrested shortly after noon Tuesday, according to Trooper F.L. Hammack of the State Police detachment in Spencer.
Hammack said a Nicholas County drug task force made the arrest after authorities received a tip that Cogar was at a hunting camp in a rural area of Nicholas County.
"He was hiding in the woods when they got there," said Hammack. "He resisted and fled, but they were able to apprehend him."
Hammack said Cogar had approximately $600 in counterfeit money and some prescription drugs packaged for distribution in his possession at the time of his arrest, which will add to the charges he is already facing in Roane, Kanawha and Nicholas counties.
Even before the chase, Hammack said Cogar was wanted in Nicholas County for making methamphetamine while he was on parole.
The chase began on the evening of Aug. 22, after Cogar allegedly had a run-in with a Clendenin police officer outside the Clendenin Speedway store. Patrolman Chad Shafer was walking by when Cogar allegedly bumped into Shafer's shoulder and a confrontation followed.
Cogar fled in a 1989 Ford pickup tuck and Shafer followed. Cogar got onto I-79 and turned off at the Amma exit in Roane County. The chase continued down Amma and Big Sandy roads before Cogar stopped at the intersection with W.Va. 36, just north of Newton.
Hammack said Shafer got out of his cruiser before Cogar put his truck into reverse and slammed into the car, disabling it ...
... read the rest of the story ... www.thetimesrecord.net